This post contains affiliate links. As an Amazon Associate, I earn from qualifying purchases.
Hot dogs are one of those things that I'm never sure about. When you stop to think about what goes in the average store-bought dog or remember reading The Jungle, it takes a while before you actually can bring yourself to eat a hot dog. But I might be able to get past those thoughts much quicker, now that I've been to Frank.
Frank is a new restaurant in downtown Austin that serves all manner of hot dogs, sausages, and other things in a bun. Basic options start with an all-beef dog ($3.00) that can be covered in slaw, chili cheese, jalapenos, or done up Chicago style. If you're feeling crazy you can have your dog stuffed with cheese, wrapped in bacon, and deep fried for an extra $1.75, but I get the feeling you'll want some antacid at the ready.
Now, being a mom and working full time I didn't know when I'd be able to visit Frank again, so I went all out on my order and got the most ridiculous thing I saw: the Jackalope. This is a sausage made of antelope and rabbit, topped with sriracha aioli, applewood smoked cheddar, and huckleberry compote. I loved it. The sausage has a really nice flavor, and the spicy-sweet topping was great, although I would have appreciated less compote, as it was a bit messy to eat. It is fairly expensive for a "hot dog" at $7.00, but the ingredients more than make up for it.
I'm sorry to say that we weren't very impressed by the vegetarian options we chose. I had two vegetarians in my group, so we split some vegetarian sides to go with the dogs. We chose the chili cheese waffle fries (with veggie chili), plain waffle fries with horseradish and buffalo bleu sauces for dipping, and the corn cup. For the veggie dogs, one chose the Chicago-style and the other a dog with veggie chili. Aside from the Chicago dog coming out as a meat dog the first time, the veggie dogs themselves just weren't as good as those we've gotten from the street carts. No one really liked the vegetarian chili either – it seemed like someone had just tossed Smart Ground, tomato sauce, and "chili" spices together.
The fries were just fries, nothing special, and it's obvious that the sauces are meant to be the standout. I liked the buffalo bleu sauce, which is just what it sounds like, wing sauce in a creamy base. One friend who is a wasabi fiend thought the horseradish sauce could have been more powerful, though. Frank has five other sauces, including something called Punchy Sauce, so next time I'll try something else.
The standout of the sides was the corn cup ($3.00). A bowl of grilled shucked corn flavored with chile, lime, cilantro, and cheese, this was the most amazing corn I've ever eaten. There was a wonderful slight sweetness to it and the char from the grill gave the entire dish a fantastic flavor. I honestly kept eating it even after I was full because I didn't want it to go to waste.
We didn't try the other sides, but they also have ranch style beans, broccoli salad (not vegetarian), corn dog bites made with li'l smokies, and even Canadian poutine.
Frank is also the place to go if you're jonesing for some liquid bacon. The reason I first wanted to go to Frank was because a friend had tweeted about her bacon-infused Maker's Mark. Unfortunately when I got my Militia Manhattan ($7.00, bacon Maker's Mark, sweet and dry vermouth, brandied cherries, lemon) I couldn't taste bacon at all. Frank adds the bacon flavoring in house (they make bacon-infused vodka too), so it's possible I got a bad batch, as my friend said she could definitely taste the bacon on her visit.
Since not everyone is in the mood for meated liquor, Frank has many other specialty drinks, a variety of beers, all-natural sodas, and the famed Dublin Dr. Pepper.
If you aren't interested in the regular menu, they have specials that change daily – one of the specials for September 12 was an appetizer of croquettes made with alligator boudin. Specials are kept up-to-date on the website in case you're like me and like to choose your food ahead of time. Also according to the website, they will soon be serving a Sunday brunch and are currently at work building a deli grocery in the back of the restaurant. If they sell their jackalope sausage, I'll be first in line.
Frank is still relatively new and working out the kinks, but if you like hot dogs, you'll want to give this place a try before finding a seat becomes impossible.
Frank is located at 4th and Colorado in downtown Austin. Open Monday through Wednesday until midnight, Thursday through Saturday till 2 a.m. Open Sundays 11-3 and 5-10.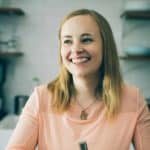 About Megan
I focus on fresh ingredients and easy methods, with spins that keep meals interesting. Dinnertime shouldn't be stressful or complicated, and I'm here to help you enjoy the time spent in the kitchen. Read more…