It's a shame I live in Texas, because I really love fall. I love the crisp air, crunchy leaves, cute sweaters, and snuggling under blankets. I love the warm spices of the season and how they intermingle with simple ingredients to make amazing things. Like pumpkin pie. Like coffee cake. Like lovely, smooth apple butter that would actually taste pretty amazing paired with a slice of pumpkin pie, I'd bet.
We picked 30 pounds of apples at Sonlight Orchards in Mason, Texas, this weekend, and I set to work transforming them into deliciousness.
Apple Butter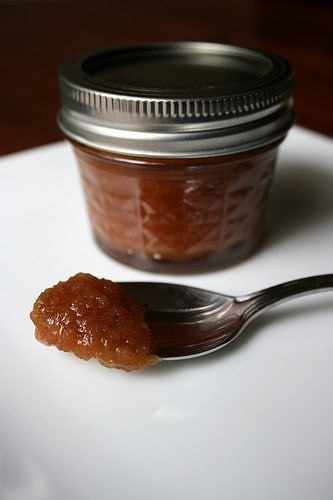 Ingredients
5 pounds apples , such as Cameo
4 cups sugar
2 teaspoons cinnamon
¼ teaspoon nutmeg
1/8 teaspoon cloves
Instructions
Chop apples into sixteenths and toss them (stems, seeds, and all) into a large stock pot with about 2 cups of water. Let the apples simmer on the stove until they are soft and mushy.

Run the cooked apples through a food mill set over a crock pot. You can stop here and have applesauce, but why not keep going? Add sugar and spices and stir. Cook apples on low for 6 hours. Cook longer if you want even thicker, darker butter. Stir every once in a while and be sure to taste often (use clean spoons each time!).

Eat with toast, scones, graham crackers, or your finger.

To can, sterilize jars in the dishwasher or a pot of boiling water. Keep lids (not the rings) in another, smaller, pot of boiling water. Fill jars with butter, place lids on, screw rings on gently, and process (boil) in a large pot for at least 10 minutes. Be sure to keep the jars completely covered with water. Remove jars carefully and set on counter. You should hear the jars "ping" as the seal is set. If any jars don't seal, you can put them in the fridge to use right away. When the jars are cool, tighten the rings, label jars, and store in the cupboard.
For more preserving inspiration, check out my Canning, Preserves, and Pickles board on Pinterest.
Follow Megan Myers | Stetted's board Canning, Preserves, & Pickles on Pinterest.