This post contains affiliate links. As an Amazon Associate, I earn from qualifying purchases.
This homemade pizza sauce recipe uses fresh paste tomatoes for the best flavor. Use on your favorite pizzas, as a dip, or even on top of eggs!
We make a lot of pizza at my house. In fact, we used to have Pizza Friday, where every Friday would be pizza night.
We don't quite do that anymore, thanks in part to my teenager working at a pizza joint, but I do still whip up cheeseburger pizza, chicken bacon ranch pizza, and pulled pork pizza when the craving hits.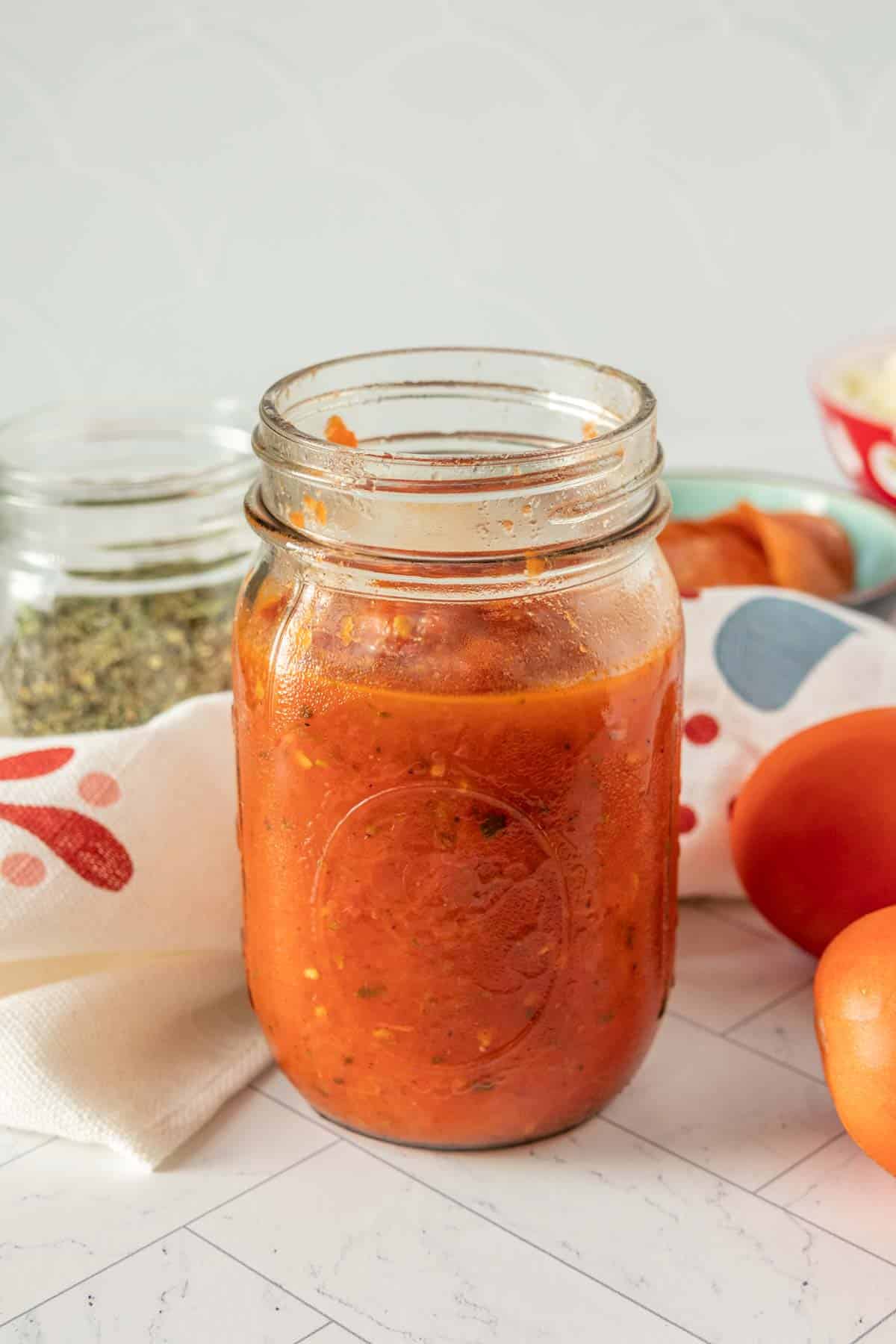 Most often, though, the kids just want a simple pepperoni or sausage pizza, and that means a batch of homemade pizza sauce.
This is my go-to pizza sauce. I love that it has just a few ingredients so the tomatoes really shine.
This recipe makes enough for multiple pizzas, so you make a batch and freeze or can the excess.
Who doesn't want pizza night ready to go at a moment's notice?!
Ingredients for homemade pizza sauce
You'll need: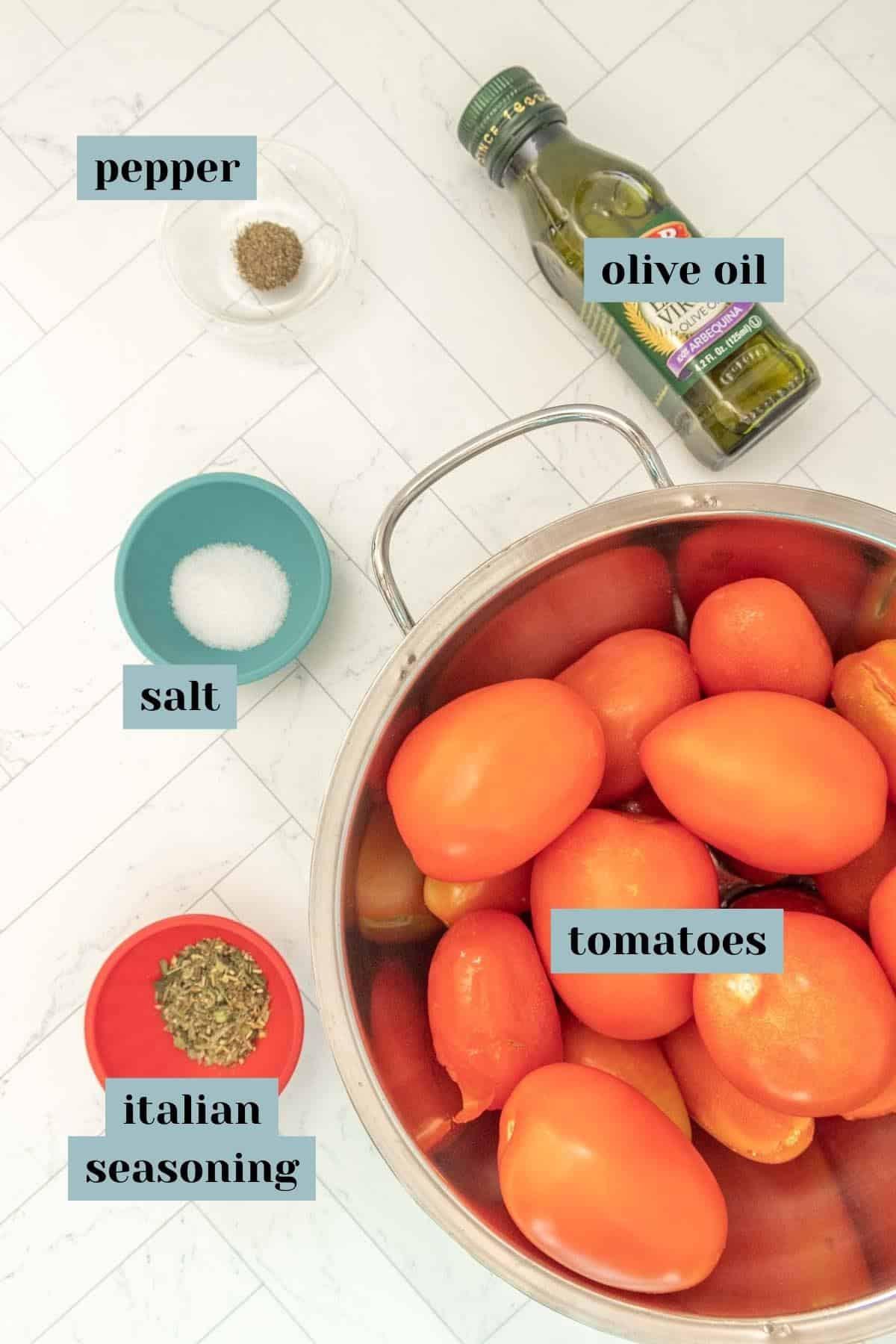 Tomatoes – The best kind of tomato for making sauces like this is the paste tomato, which has less liquid and seeds than slicing tomatoes.
Paste tomatoes are elongated instead of round, often with a pointed tip on the end.
My favorite for sauce is the San Marzano variety, which you can often find at farmers markets in the summer.
The most popular alternative, which is available at the grocery store, is the Roma tomato.
You will need 2 pounds of fresh tomatoes. Make sure you weigh the tomatoes, as they can vary a lot!
Olive oil – Just a small amount of olive oil is added here to flavor the sauce.
Salt – I use fine sea salt.
Italian seasoning – You can use a homemade Italian seasoning blend, or your favorite packaged mix.
Black pepper – Ground black pepper helps balance out the natural sweetness of the tomatoes.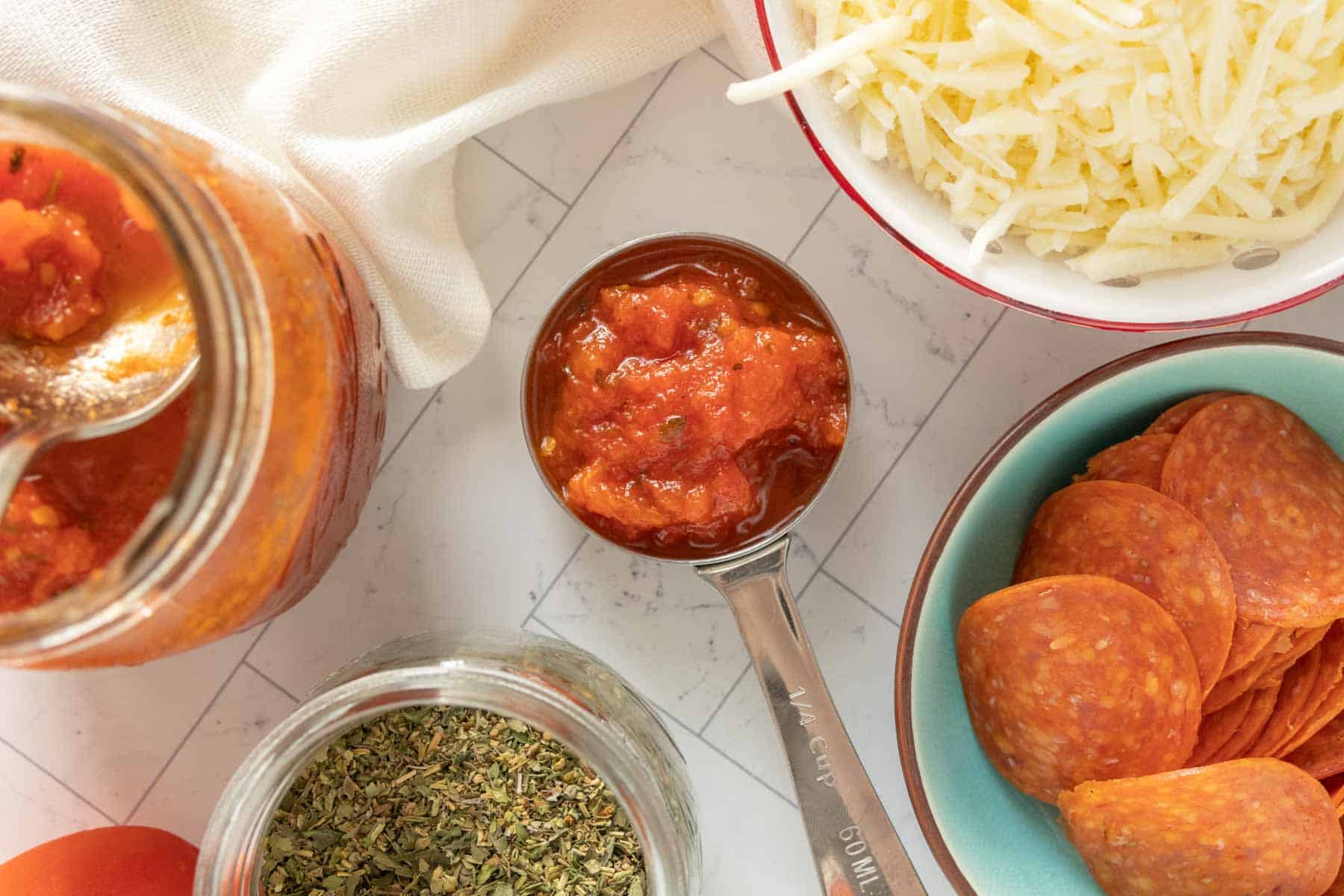 How to make this recipe
First, peel the tomatoes. If you freeze your tomatoes, the peels will remove easily once thawed. You can also blanch the tomatoes in a pot of boiling water, then let them rest in an ice bath. (Read my post on how to peel tomatoes for lots of tips!)
Remove the core, seeds, and excess juices. Don't worry if you don't get all of the seeds.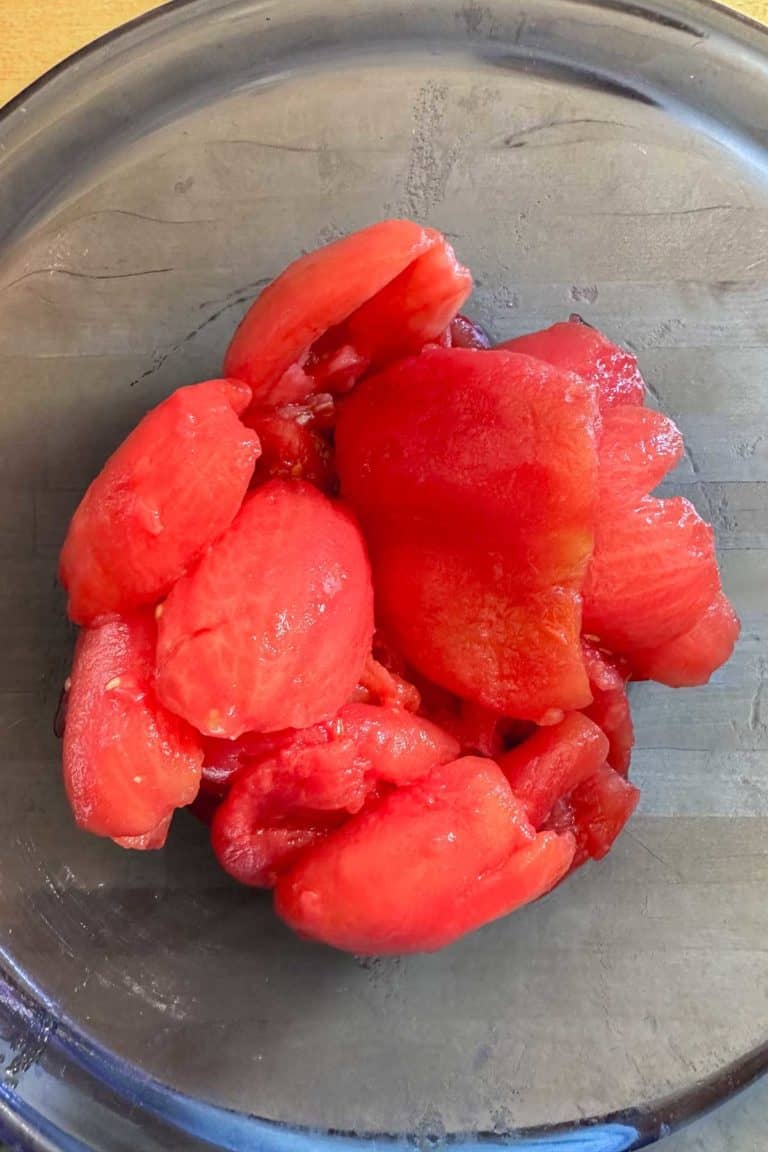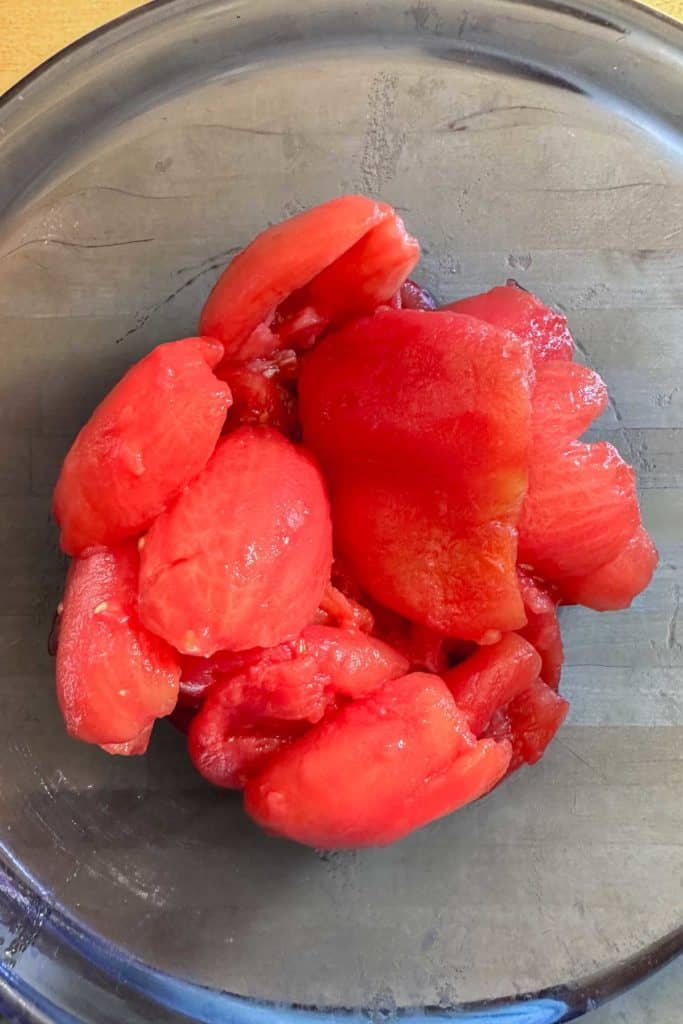 Place the tomatoes in a bowl. Then, using your hands, squish the tomatoes into small pieces.
I recommend using kitchen gloves for this step if you have them, as it does get messy!
You can also use a potato masher to avoid getting your hands dirty.
If you prefer, you can chop the tomatoes by hand or with a quick pulse in a food process. Do not purée the tomatoes.
Set a saucepan over medium heat.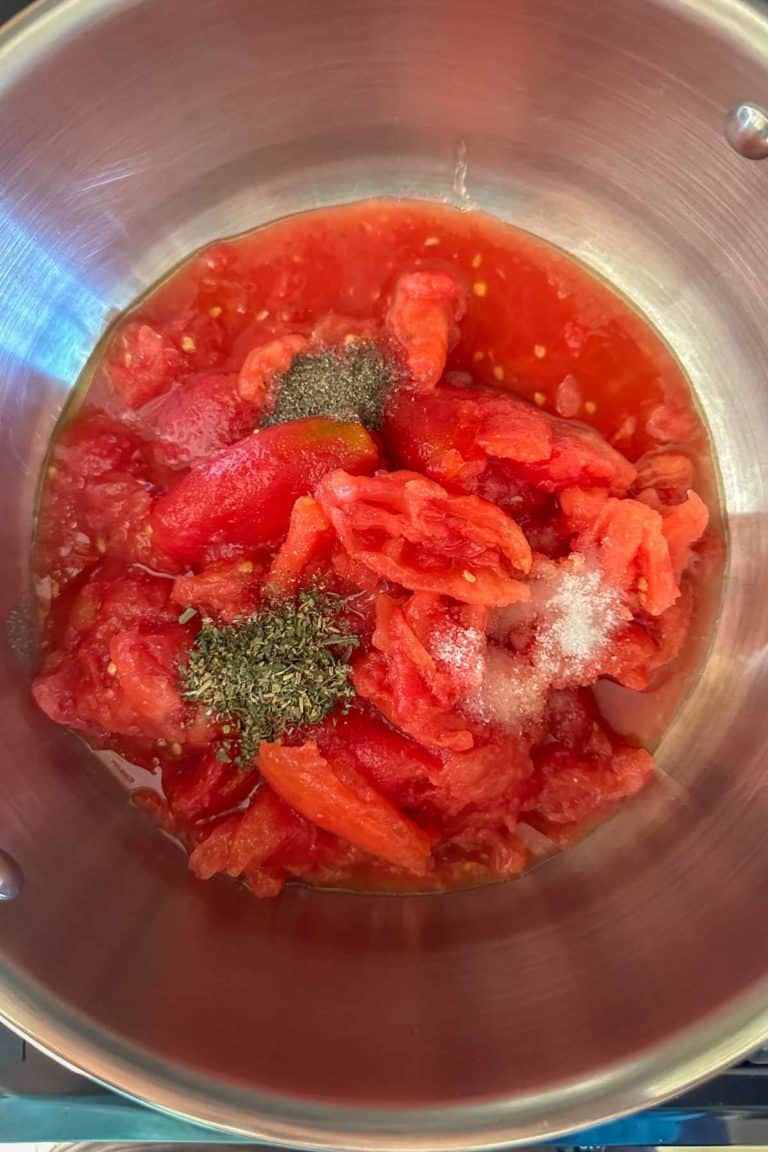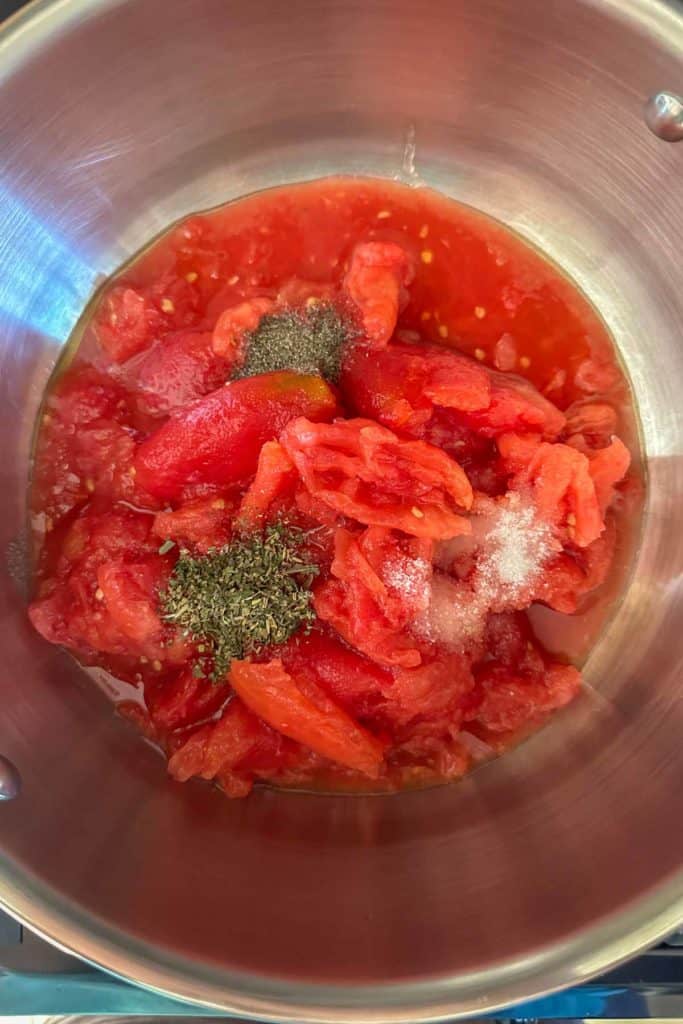 Add olive oil, then tomatoes, salt, Italian seasoning, and black pepper. Stir well to coat the tomatoes in the seasonings.
Bring to a low boil, then simmer the sauce for 20-40 minutes, until the sauce thickens to your liking.
You can use the sauce immediately, or transfer to containers for storage.
This recipe makes just about 2 cups of homemade pizza sauce.
Storage tips
This sauce will keep in an airtight container in the refrigerator for 7 days. Keep it in the colder part of the refrigerator for freshness (not the door).
For longer storage, I recommend freezing or canning it.
To freeze, divide into jars or freezer-safe containers (such as deli containers), leaving space at the top to allow for expansion.
Let cool to room temperature, then add lids, label, and freeze for up to 3 months.
Thaw overnight in the refrigerator.
To can for pantry storage, divide 1 tablespoon lemon juice evenly among the number of jars you are using. Use ½ tablespoon for each 8-ounce jar and ¼ tablespoon for each 4-ounce jar.
Add pizza sauce, leaving ¼ inch of headspace at the top of each jar. Wipe rims, then apply lids and rings.
Process jars in a boiling water bath for 15 minutes. Turn off the heat and let stand 5 minutes, then remove to a towel-lined countertop and let stand 24 hours before checking for seals, labeling, and storing in the pantry.
Properly stored canned products will keep for up to 18 months. Any jars that are opened or do not seal should be stored in the refrigerator.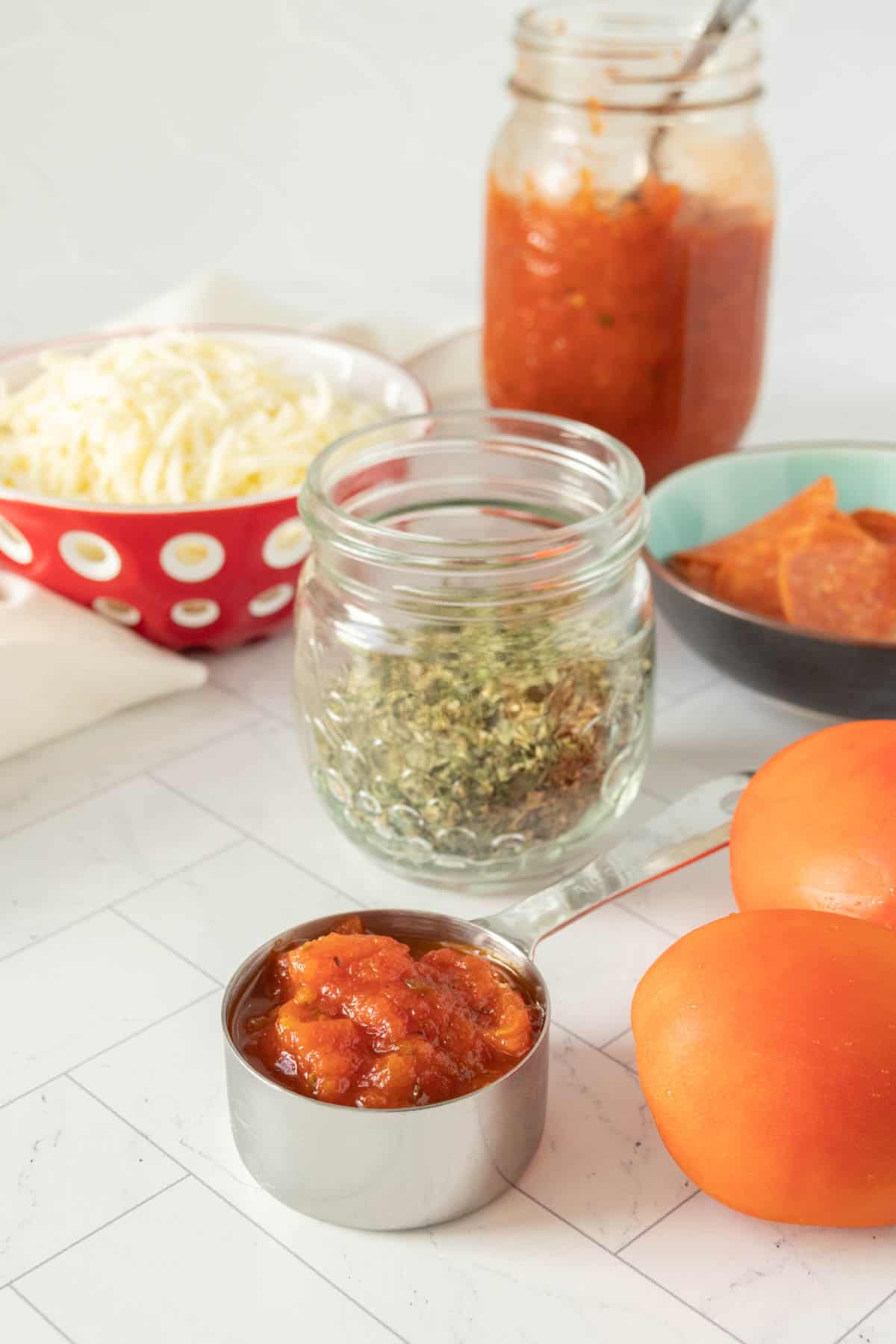 Recipe suggestions
If you plan to process this recipe for canning, do not add ingredients like onion or garlic, which can affect the acidity.
When adding ingredients to homemade pizza sauce, I usually mix it in just before using on my pizza to avoid any canning errors.
If storing in the fridge or freezer, feel free to add crushed red chile flakes, garlic powder, or even a bit of smoked paprika.
I leave the sauce a little chunky, but you can purée it with an immersion blender or food processor if you want a smoother sauce.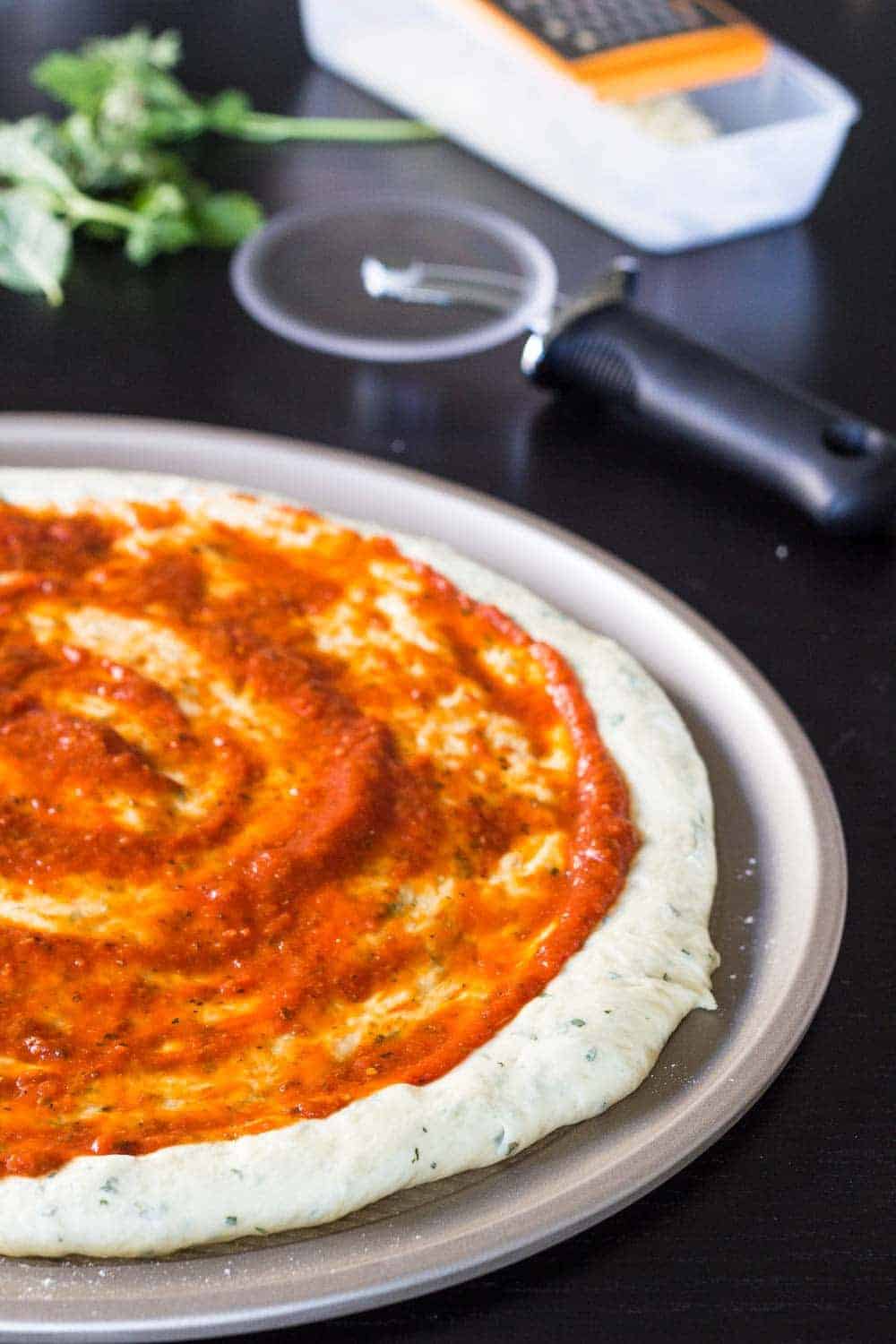 FAQ
Can I use jarred tomatoes to make pizza sauce?
If tomatoes are out of season, you can use jarred or canned tomatoes for sauce.
I recommend using either whole San Marzano tomatoes and crushing them yourself, or petite diced tomatoes.
Crushed tomatoes will work as well, but they have a little less texture than I personally prefer for my pizza sauce.
You will need about 30 ounces of canned tomatoes to equal 2 pounds fresh tomatoes.
Can this pizza sauce be canned?
Yes, but because this recipe is tomato based, you MUST add lemon juice to each jar along with the pizza sauce. This gives the sauce enough acidity to be safe after processing in a water bath canner.
If canning, use 1 tablespoon of lemon juice, divided equally among the number of jars you are using.
Process in a boiling water bath canner for 15 minutes.
How can I thicken pizza sauce?
I recommend cooking this pizza sauce long enough that most of the excess juices have cooked off.
That means when you run your spatula or spoon through the pan, the juices don't immediately pour back into the cleared area.
Homemade pizza sauce benefits from a good simmer to let the flavors meld, so don't try to rush the process.
If you decide after storing the sauce that it is too runny for your liking, you can warm it on the stove again until thickened to your liking.
I do not recommend using tomato paste to thicken the sauce, as it has a very strong flavor and the addition makes the recipe not suitable for canning.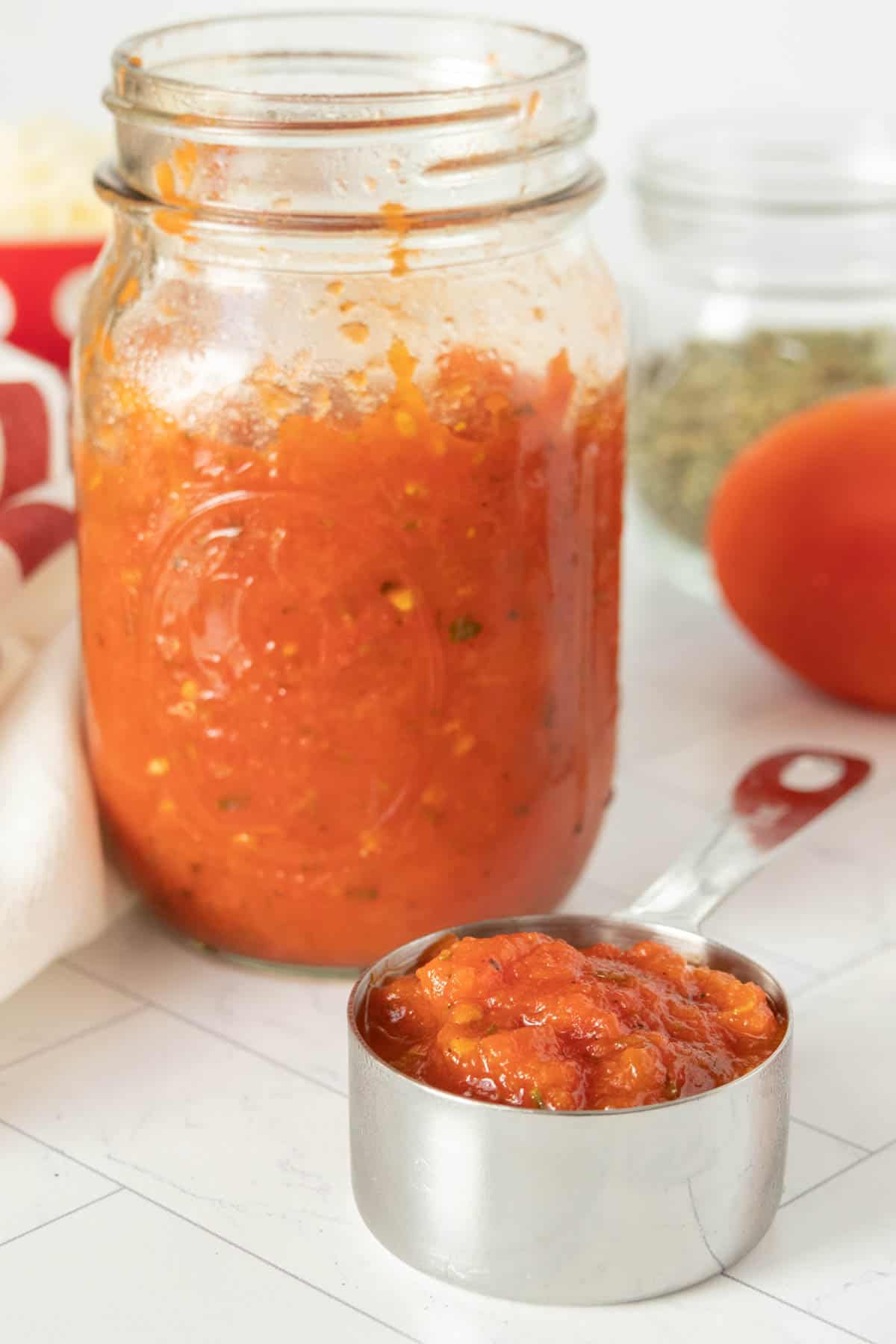 Ways to use pizza sauce
Obviously, the best way to use this sauce is on top of your favorite pizza crust, but there are so many other ways you can eat it.
Use as a dipping sauce for breadsticks or chicken tenders.
Dollop onto bread for a pizza-inspired grilled cheese sandwich.
Top scrambled or fried eggs with warmed sauce for breakfast.
Try making this pizza sauce at home the next time pizza night calls!
Love this recipe? Please leave a 5-star review below! It means so much when you enjoy my recipes, so let me know how it goes and leave a comment if you have any questions.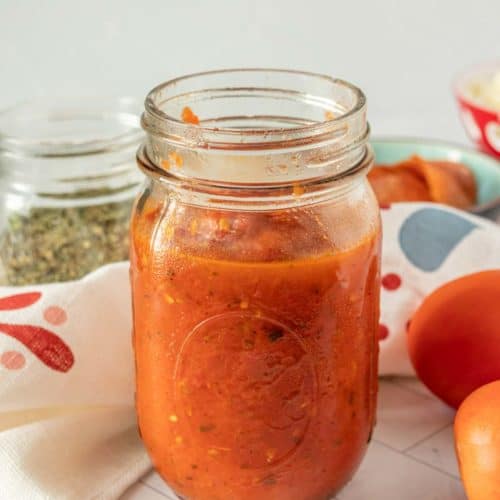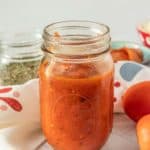 Homemade Pizza Sauce
Fresh tomatoes shine in this easy homemade pizza sauce. Freeze or can the extra to keep on hand!
Print
Pin
Save
Saved!
Ingredients
2

pounds

paste tomatoes

,

such as San Marzano or Roma

1

teaspoon

olive oil

1

teaspoon

fine sea salt

1

teaspoon

Italian seasoning

1/4

teaspoon

ground black pepper
Instructions
Peel and core tomatoes, discarding seeds and juices. Add to a bowl.

Using your hands or a potato masher, crush the tomatoes into small pieces.

Add olive oil to a saucepan and heat over medium. Add the crushed tomatoes with their juices, salt, Italian seasoning, and pepper. Stir well to coat tomatoes in the seasonings.

Bring to a boil, then simmer for 20-30 minutes, until sauce thickens to your liking. Stir occasionally, using a spatula or spoon to break down tomatoes further.

Remove from heat and purée if desired. Pour into jars and let cool to room temperature, then store in the refrigerator.
Notes
Makes about 2 cups.
To can, divide 1 tablespoon lemon juice equally between 2 half-pint or 4 quarter-pint jars. Pour in sauce, add lids and rings, then process in a boiling water bath for 15 minutes.
To freeze, fill jars or plastic containers, leaving 1/2 inch or more space at the top. Let cool to room temperature, then freeze for up to 3 months.
Nutrition
Calories:
17
kcal
Carbohydrates:
3
g
Protein:
1
g
Fat:
0.5
g
Saturated Fat:
0.1
g
Sodium:
198
mg
Potassium:
182
mg
Fiber:
1
g
Sugar:
2
g
Iron:
0.3
mg
Nutrition information is provided as a courtesy and is an estimate based on online calculators. Any nutritional information found on Stetted should be used as a general guideline only.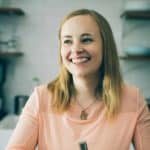 About Megan
I focus on fresh ingredients and easy methods, with spins that keep meals interesting. Dinnertime shouldn't be stressful or complicated, and I'm here to help you enjoy the time spent in the kitchen. Read more…