This post contains affiliate links. As an Amazon Associate, I earn from qualifying purchases.
Making this easy pickled asparagus recipe is a great way to extend the season on the popular vegetable. Tangy and crunchy, it's a wonderful addition to any relish tray or cheese board.
If you love other pickles like pickled green beans or pickled cauliflower, but have never tried pickled asparagus, you're in for a treat.
These tender spears are wonderful pickled. They have a crisp, tangy taste, and they're great for adding to salads or just eating straight from the jar.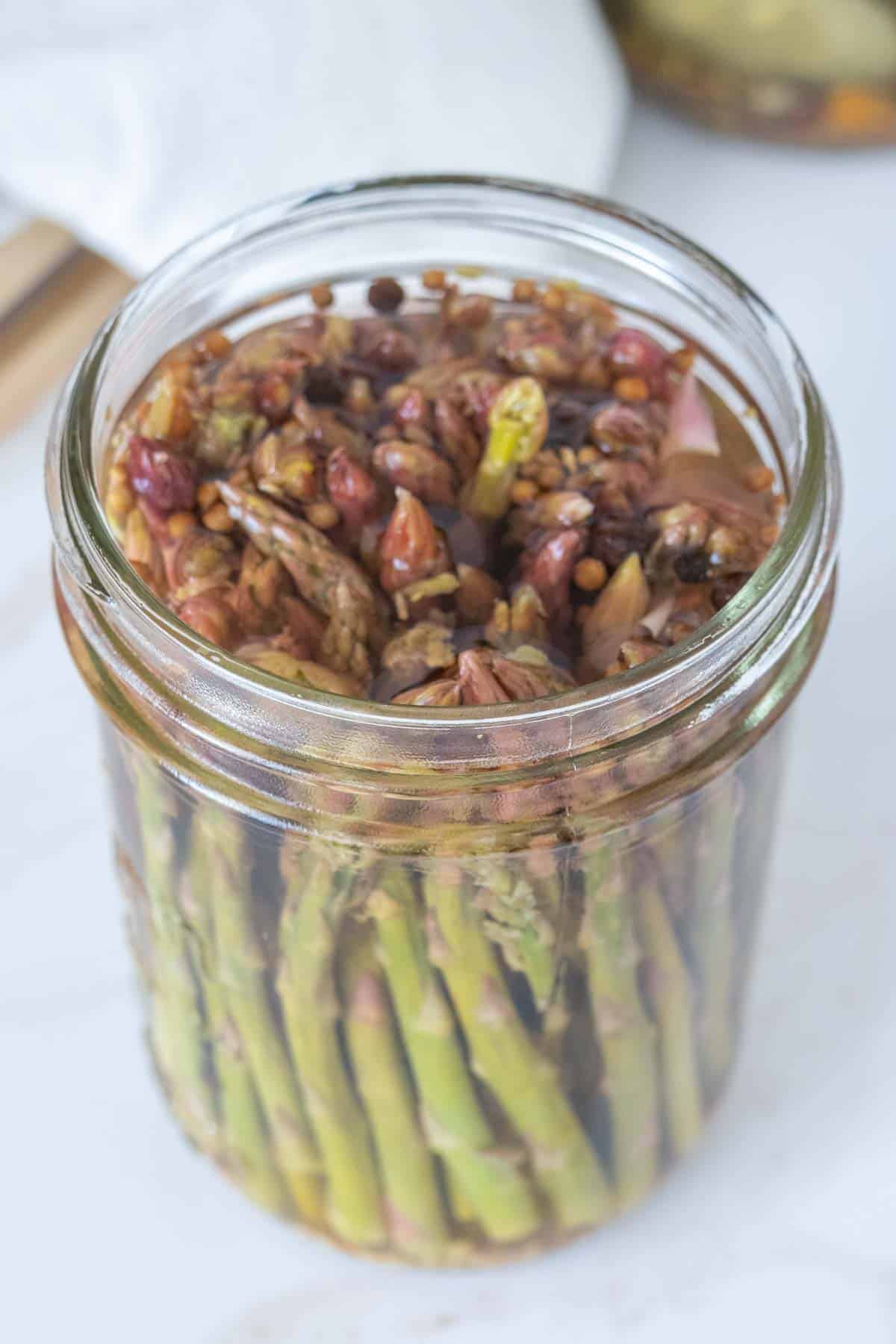 Asparagus season always feels so short, so pickling is an ideal way to make the season last longer — at least, in your kitchen!
If you've never pickled at home before, don't stress. It's quite easy and only requires a few basic ingredients you can grab at any grocery store.
Ingredients for pickled asparagus
You'll need just a handful of ingredients to make this recipe.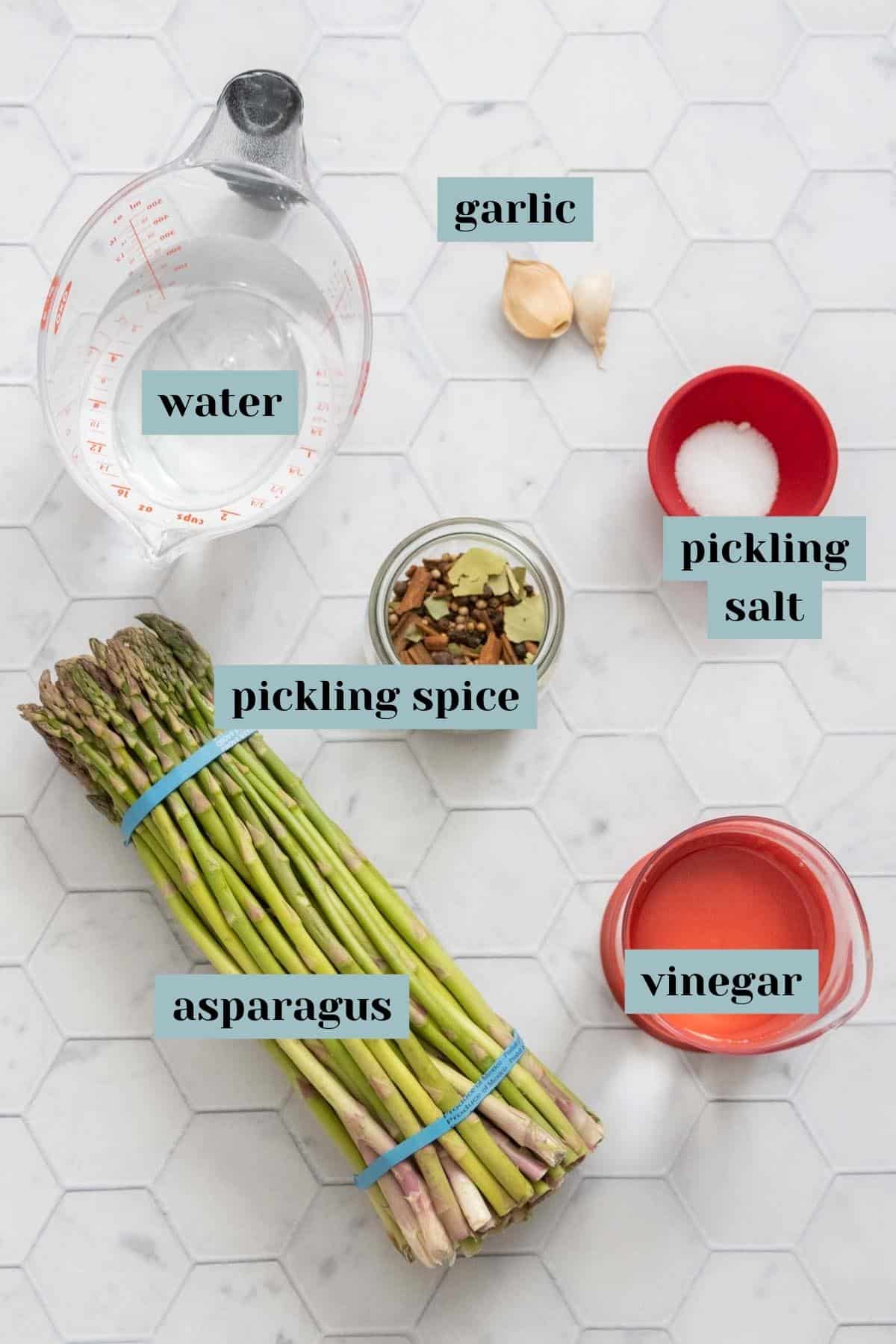 Asparagus – This recipe uses 1 pound of asparagus, which is usually the size of the bundles at the grocery store.
You can choose from thick or thin asparagus. I prefer to use the thinner asparagus for pickling, as it will pickle faster and does not need to be blanched prior to pickling.
Vinegar – Distilled white vinegar is my go-to for pickling. Make sure to use a vinegar that is at least 5% acidity; most vinegars at the grocery store are.
Water – To balance out the vinegar, water is added to the brine. Do not add more water than vinegar. For a proper pickle, especially if canning, you need to use at least 50% vinegar.
Pickling salt – Pickling salt is very fine salt that dissolves easily in liquid.
It typically comes in a large box, which will last for many batches of pickles. If you don't want to buy pickling salt, you can use fine sea salt instead.
Pickling spice – I make my own pickling spice blend, but there are many versions available at grocery stores and specialty spice stores. They typically have a mix of mustard seed, celery seed, crushed red chile flakes, peppercorns, cinnamon sticks, bay leaves, and/or dill seed.
Garlic – I love adding garlic to my pickles, but you can always leave it out.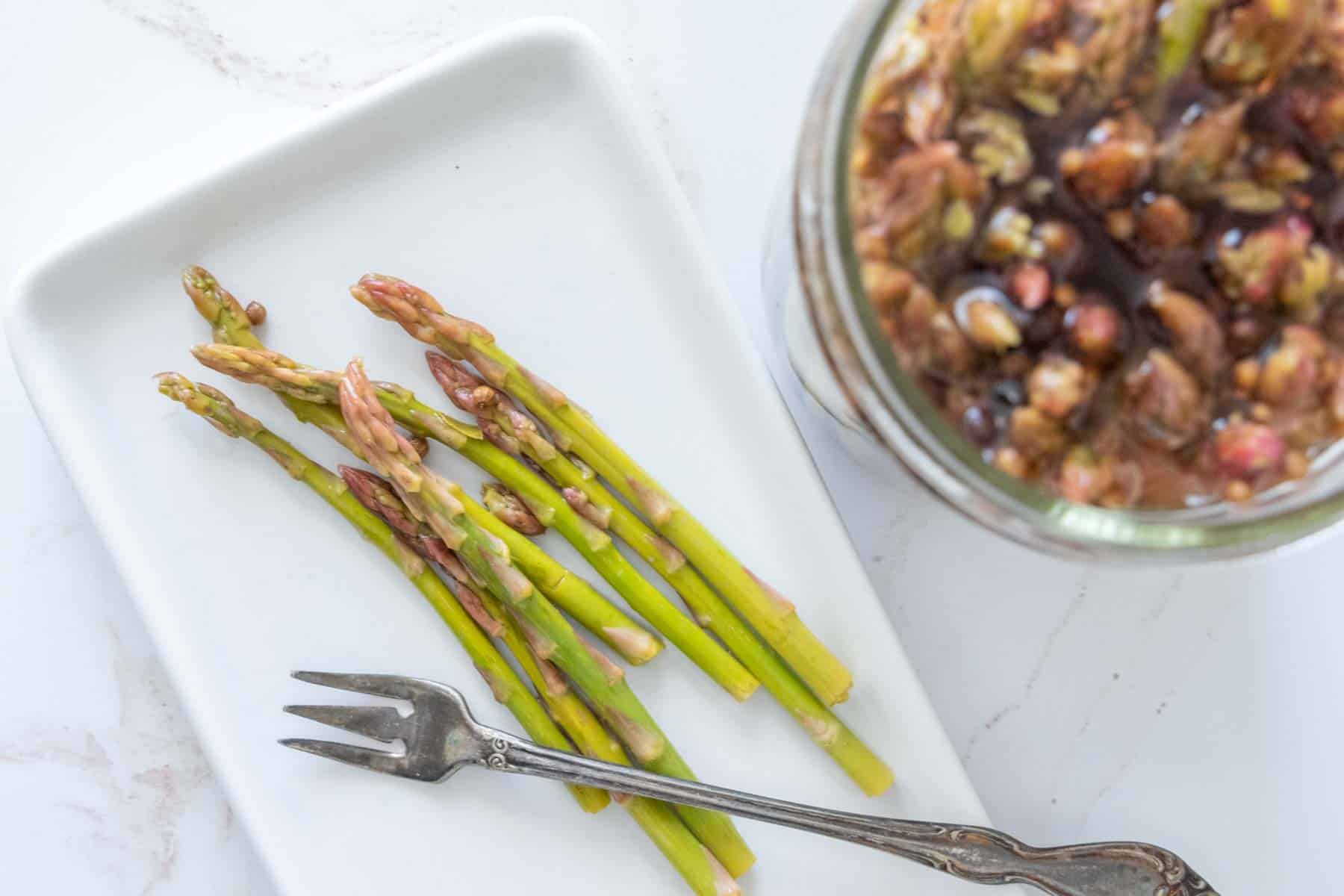 How to make this recipe
First, prepare the jars you'll be pickling in. The number of jars you'll need depends on the size of the jars and the thickness of the asparagus.
I recommend using wide-mouth jars, which are easier to fill and remove the resulting pickles. For this particular batch, I used 1 pint jar.
Trim the woody ends from the asparagus by snapping them at the natural breaking point.
Then, measure the asparagus spears against the jar you'll be using. The asparagus should fit entirely inside the jar, with enough space at the top for the spears to be covered with the brine.
Trim the asparagus as needed to fit.
tip
Save the trimmed (but not woody) bits from your asparagus spears to use in other recipes like asparagus risotto.
If your asparagus is thicker, you might want to blanch the spears. Dunk in boiling water for 10 seconds, then remove to an ice bath to stop the cooking process.
Add pickling spice and garlic to jar. If using more than 1 jar, divide the pickling spices and use 1 garlic clove per jar.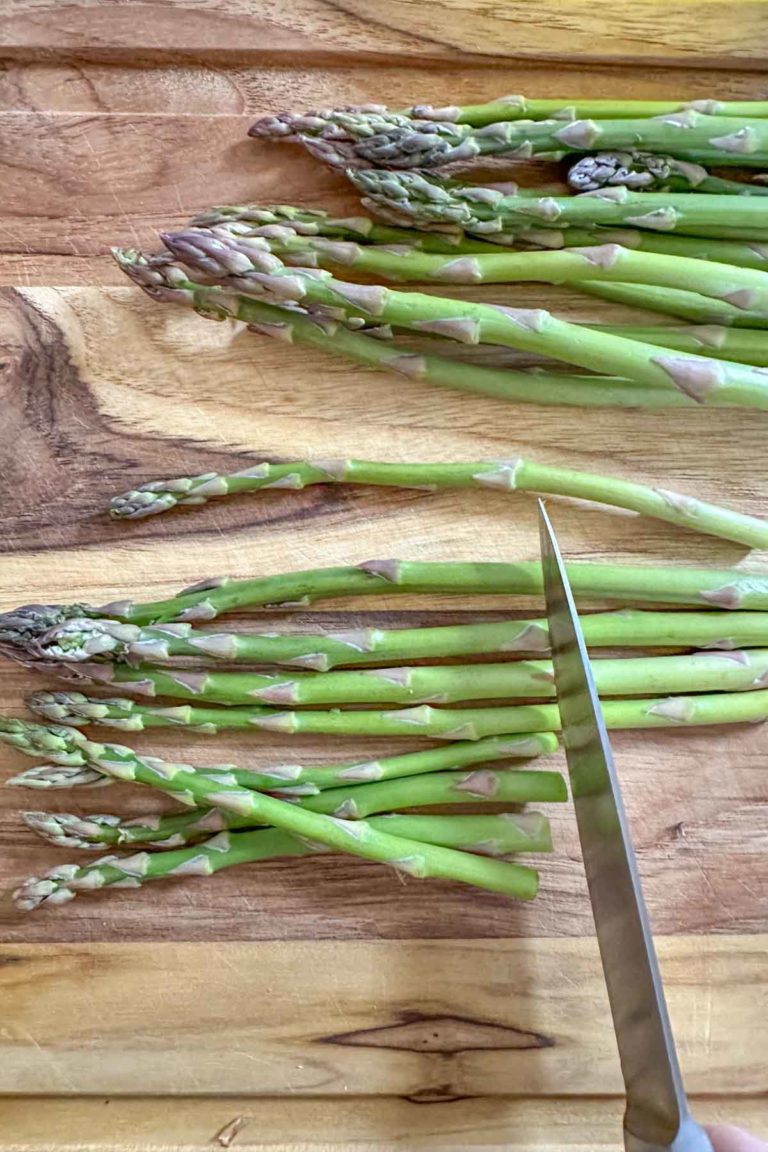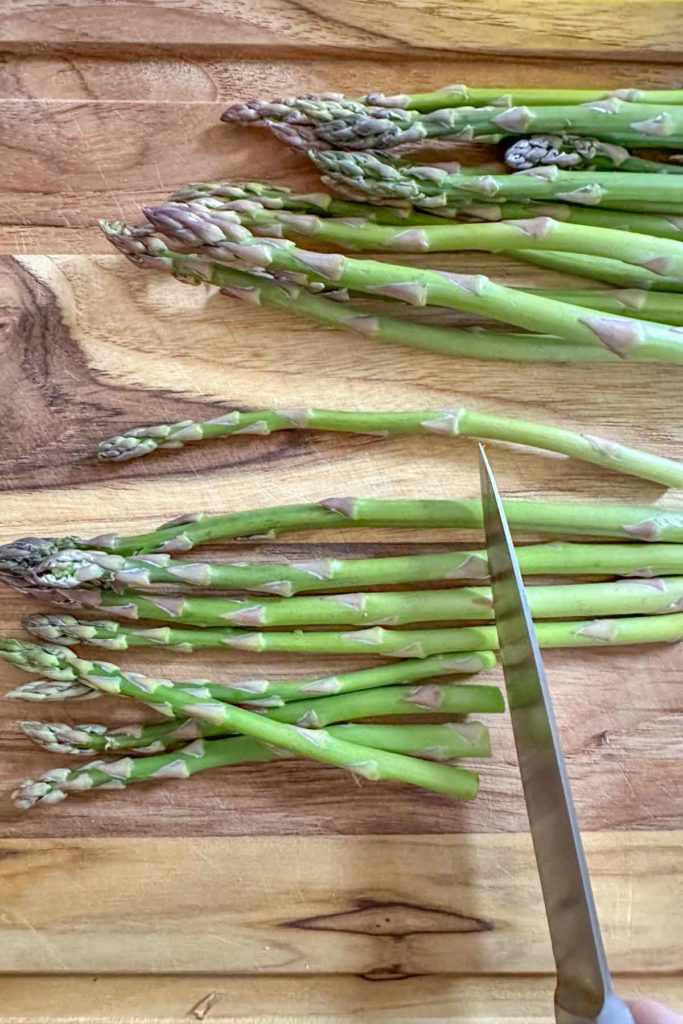 Pack the asparagus into the jar with the spear tips up. This is easiest to do by laying the jar on its side and stacking in the asparagus.
Make sure to pack the spears tightly to prevent them from floating once the brine is added.
To make the brine, combine vinegar, water, and pickling salt in a small saucepan.
Bring to a boil, stirring to dissolve the salt.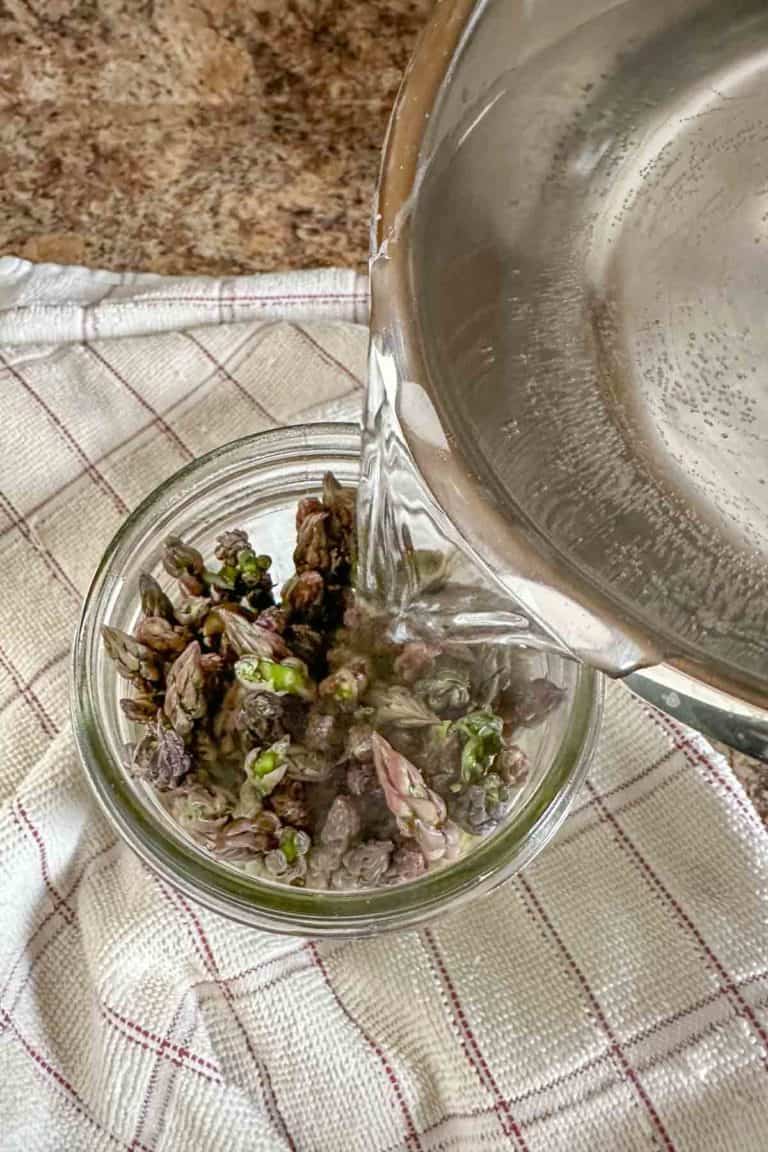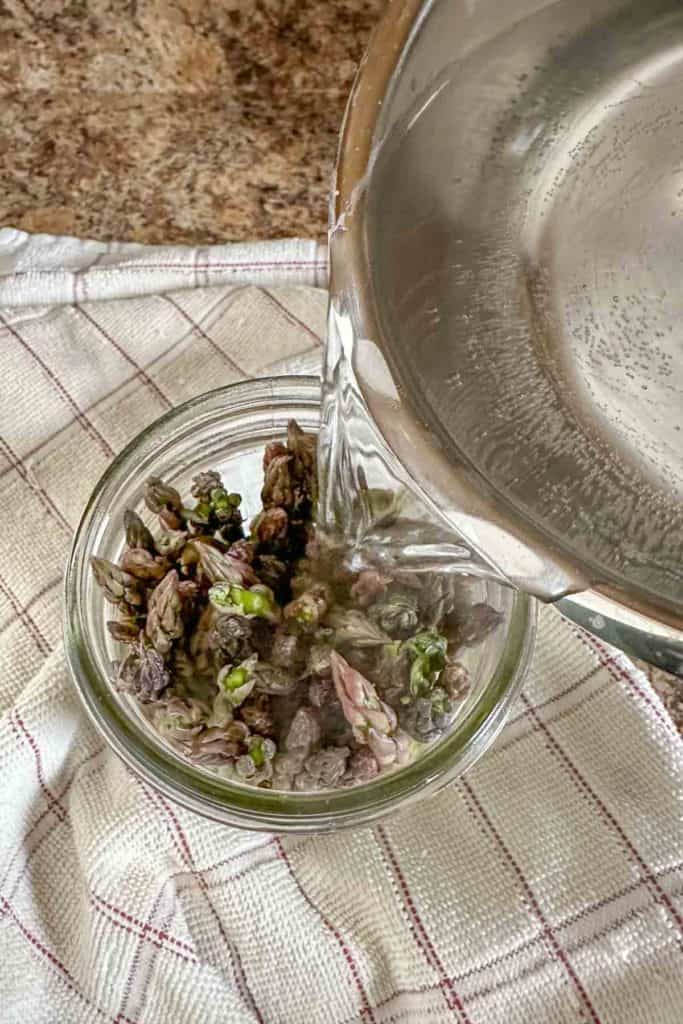 Once the salt is completely dissolved, carefully pour the hot brine over the asparagus. Fill the jar so the tips are covered and there is ¼ inch of space at the top.
Use a chopstick or wooden kitchen dowel to press any air bubbles out of the jar. Add more brine if needed.
Screw on a lid and let cool to room temperature, then transfer to the refrigerator.
Let the asparagus sit for at least 24 hours before enjoying to let the flavors meld.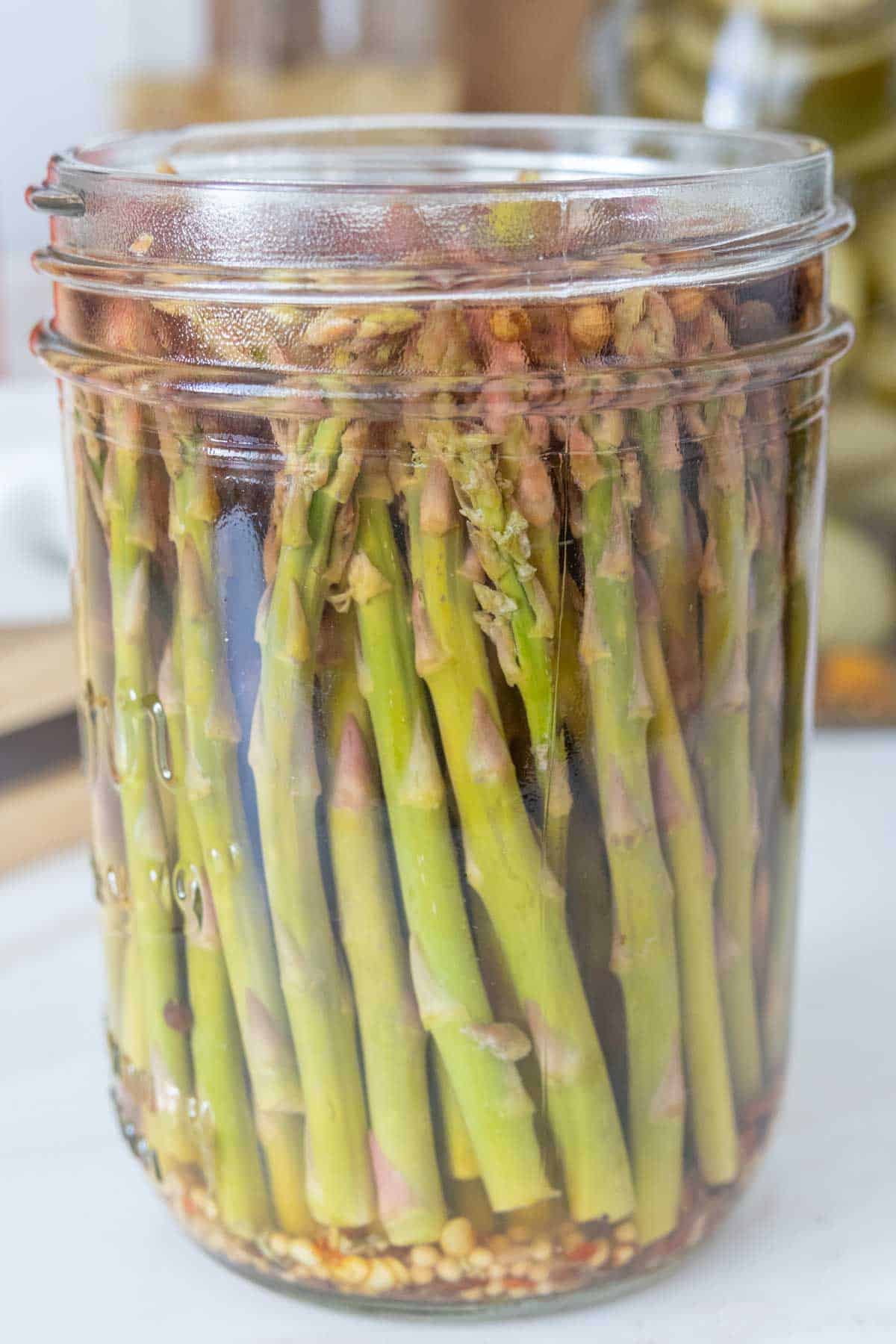 FAQ
Can pickled asparagus be canned?
Yes! Pickled asparagus can be processed in a water bath canner. This is perfect for when you want to make larger batches or multiple jars to enjoy later in the year.
Before starting the recipe, fill a water bath canner with water and bring to a boil. Make sure there is enough water to completely cover the jars plus 1 inch.
Make sure your jars are sterilized, and you have new lids ready to go. Rings can be reused if they do not have any rust.
Prepare the recipe as above, screwing on lids fingertip tight. Carefully lower jars into boiling water.
Place the lid back on the pot and bring back to a boil. Process for 10 minutes, then turn off the heat.
Remove jars and place on a towel-lined surface. Let rest for 24 hours, undisturbed.
After 24 hours, check for a seal, label, and transfer to the pantry.
Any unsealed jars should be stored in the refrigerator.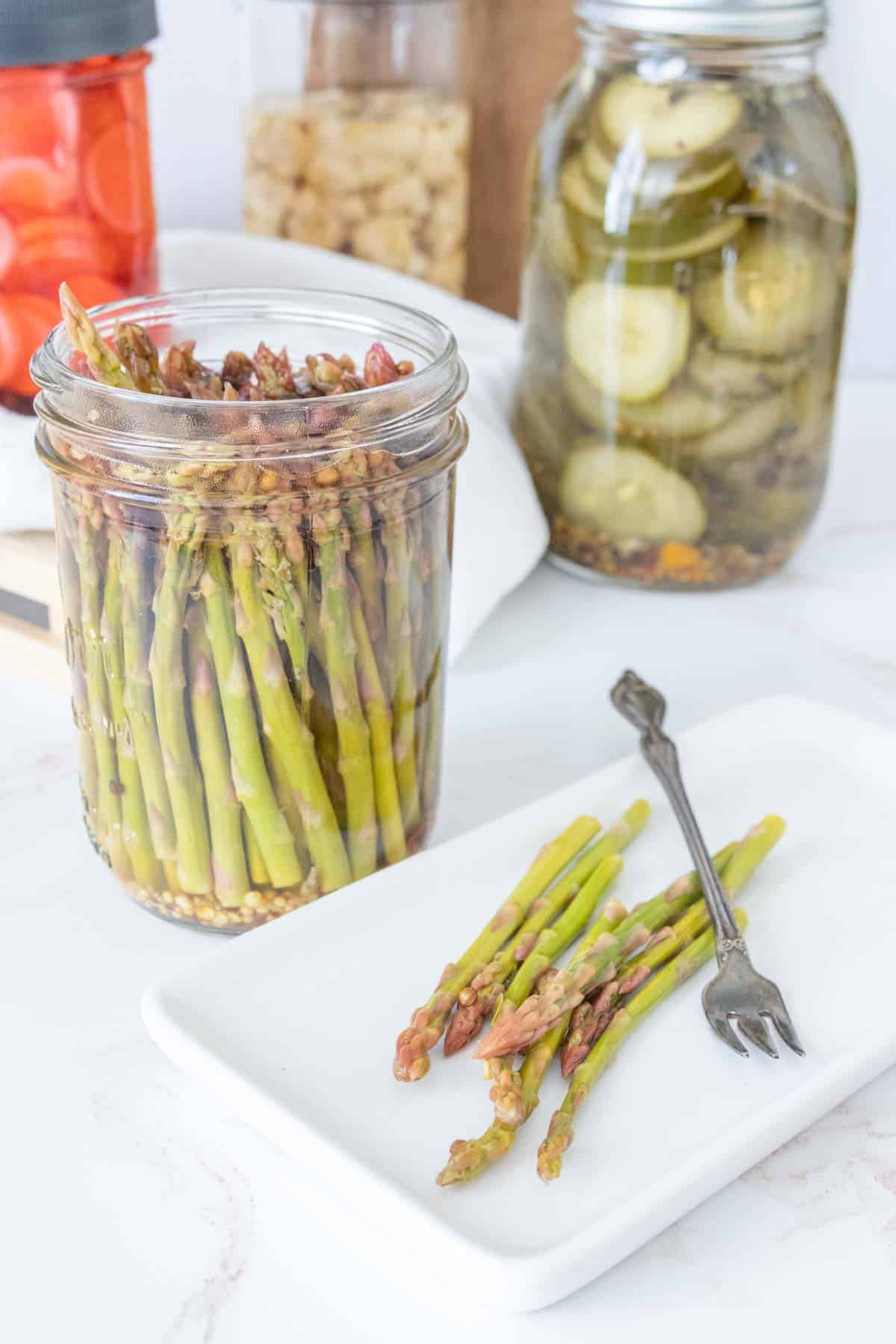 How long does pickled asparagus last?
Jars stored in the refrigerator will last for at least 1 month.
If you choose to can the pickled asparagus, the jars will keep for about 18 months when stored in a cool, dry place.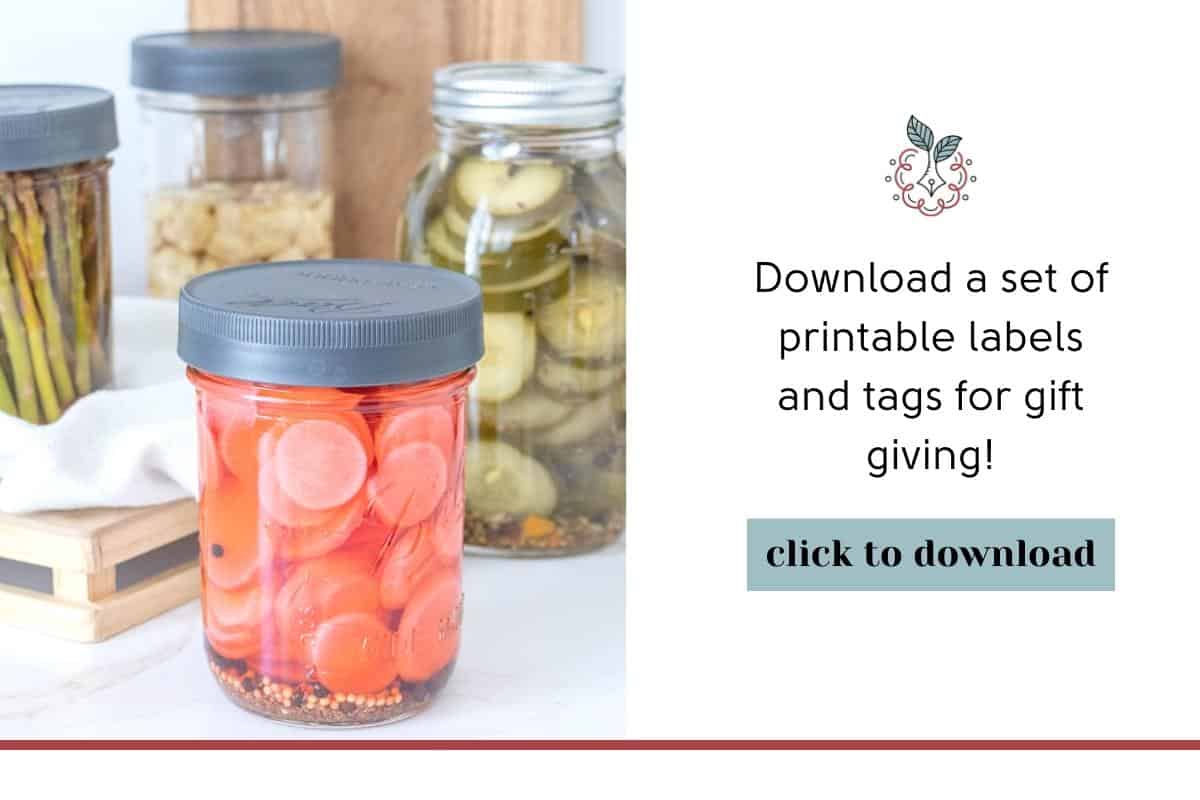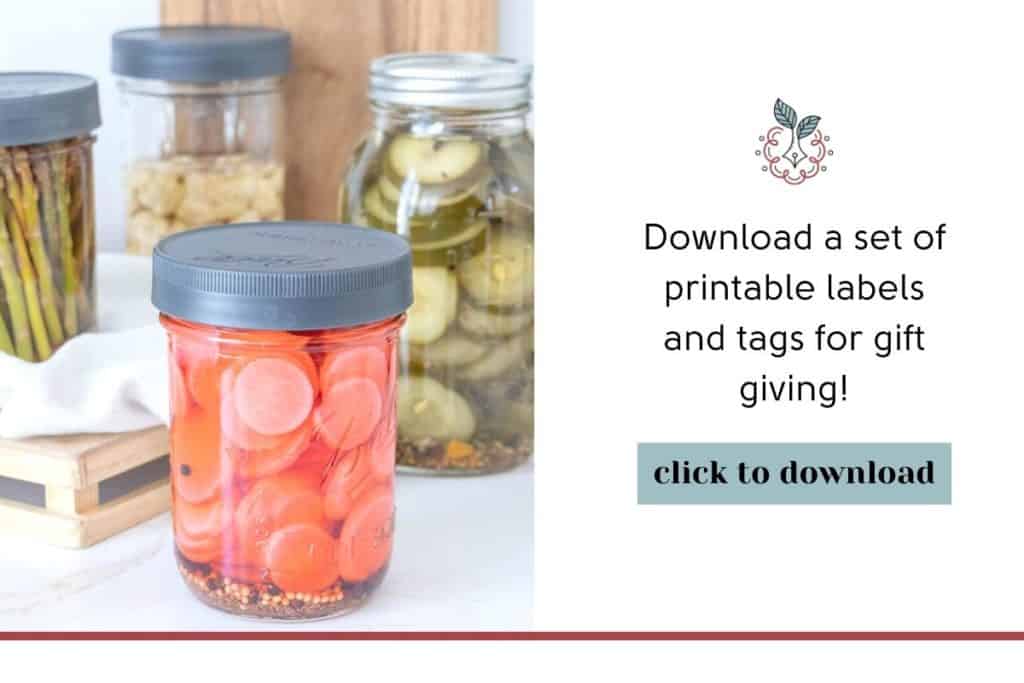 What kind of vinegar should I use for pickling?
There are a variety of vinegars to choose from for pickling. I use distilled white vinegar.
If you want to try other options, use cider vinegar, white wine vinegar, or rice wine vinegar. You can also use red wine vinegar, but keep in mind it can color the asparagus.
Note that these vinegars will all give a different flavor to the pickle.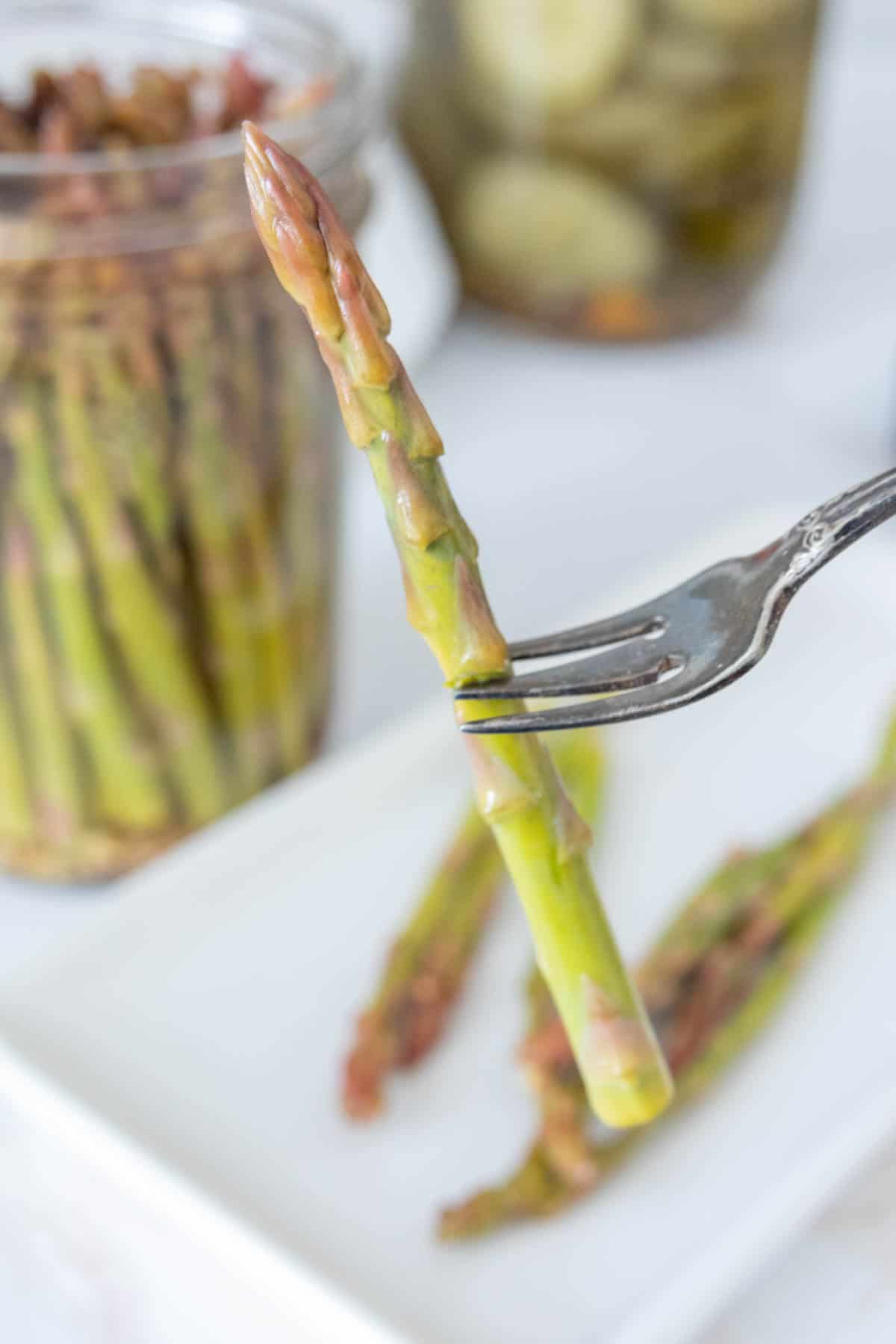 Ways to enjoy pickled asparagus
I like eating pickled asparagus alongside chicken salad for lunch, or chopping it small to add to soups like ramen.
It's also a great garnish for a virgin bloody mary or on top of deviled eggs.
Pickled vegetables also make tangy additions to sandwiches. Try it with something as simple as a grilled cheese!
Love this recipe? Please leave a 5-star review below! It means so much when you enjoy my recipes, so let me know how it goes and leave a comment if you have any questions.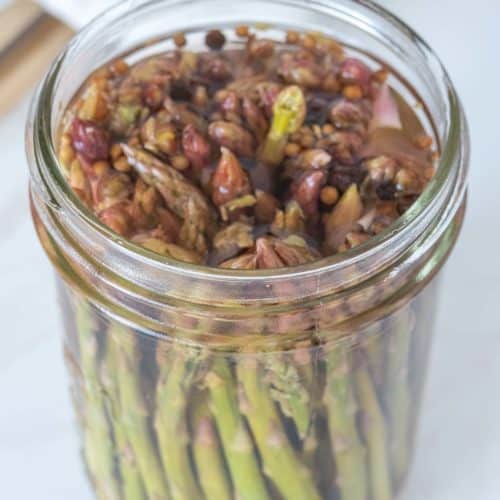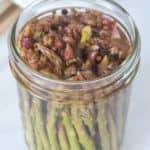 Pickled Asparagus
Tangy and crunchy, pickled asparagus is a wonderful addition to any relish tray or cheese board.
Print
Pin
Save
Saved!
Ingredients
1

pound

asparagus

1

tablespoon

pickling spice

1

clove

garlic

1

cup

distilled white vinegar

1

cup

water

1 1/2

teaspoon

pickling salt
Instructions
Trim woody ends from asparagus and cut to fit chosen jar(s) so the spears can be completely covered in brine.

Add pickling spice and garlic to jar. If using multiple jars, divide the pickling spice evenly, and use 1 clove garlic per jar. Stuff asparagus spears into jar, standing with tips up.

In a small saucepan, combine vinegar, water, and pickling salt. Bring to a boil, whisking to dissolve salt.

Pour hot brine over asparagus, filling the jar with ¼-inch headroom. The asparagus should be completely covered, but you might not use all the brine. Use a chopstick or wooden dowel to remove any air bubbles, then add more brine as needed.

Screw on lid(s) and let cool to room temperature before transferring to the refrigerator.
Notes
If using thick spears, blanch in boiling water for 10 seconds and transfer to an ice bath.
For pantry storage, process jars in a water bath canner for 10 minutes.
Let pickle for at least 48 hours before eating for best flavor.
Makes about 1 pint.
Nutrition
Calories:
13
kcal
Carbohydrates:
2
g
Protein:
1
g
Fat:
0.1
g
Saturated Fat:
0.03
g
Sodium:
293
mg
Potassium:
83
mg
Fiber:
1
g
Sugar:
1
g
Iron:
1
mg
Nutrition information is provided as a courtesy and is an estimate based on online calculators. Any nutritional information found on Stetted should be used as a general guideline only.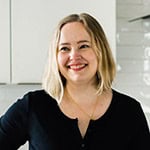 About Megan
I focus on fresh ingredients and easy methods, with spins that keep meals interesting. Dinnertime shouldn't be stressful or complicated, and I'm here to help you enjoy the time spent in the kitchen. Read more…