Powder Room Remodel: Fresh and Floral
This post contains affiliate links. As an Amazon Associate, I earn from qualifying purchases.
Wallpaper is back! Check out how we did our powder room remodel with a vibrant paper.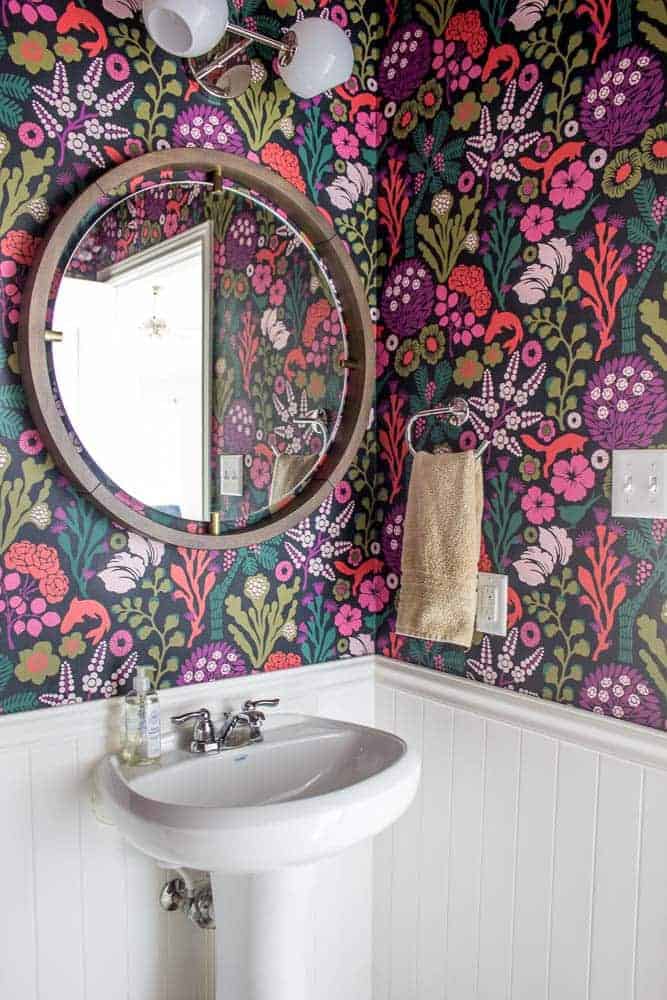 Do you have a powder room? My grandparents had one, decorated by my grandmother in a shade of purple that doesn't work so well in a tiny space, and my best friend's parents had a powder room that was beautifully decorated in black, white, and red. For a long time powder rooms seemed fancy to me, since I grew up with one bathroom and a conveniently placed ledge in the hallway for us to wait our turn.
When we bought our house, before it was even built I knew that I wanted to turn the powder room into a fun space. It might sound strange to want the place where you do your business to be fun, but I always get a kick out of well-decorated restaurant bathrooms, so why not bring that into my own home?
We started out with an incredibly plain room, outfitted with builder-choice lights and mirror, and, unfortunately, textured walls. If you haven't bought a home recently, textured walls are now the standard. This meant that before we could wallpaper, we had to smooth out the walls. I confess we hired that out, and considering it took a professional two days, it was a good choice.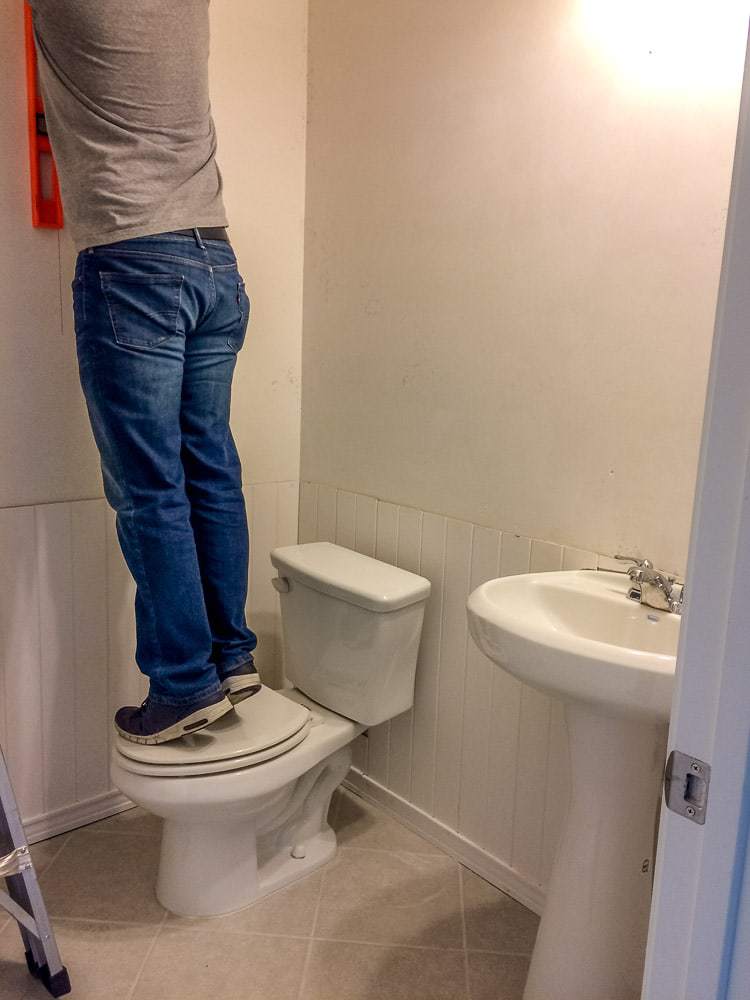 After the walls were smooth, my husband installed wainscoting. You can get it in kits at Home Depot or Lowe's, so you don't need to worry about purchasing the trim separately. If you have a pedestal sink like ours, you'll need a jigsaw to cut pieces for fitting around the pipes.
The top trip was left off so we could apply the wallpaper. In the photo above, my husband is drawing the starting line, which you want to be absolutely straight. If you start off with crooked placement, your whole process will be slightly wonky (and frustrating). You want to start in the middle of a wall, not a corner, for the best pattern connections.
The paper did not come pre-pasted, so for each section we measured the paper, cut it, applied paste, and then applied the paper. Working as a team allowed us to more carefully match the pattern at each seam, which is necessary if you have a complicated pattern like ours.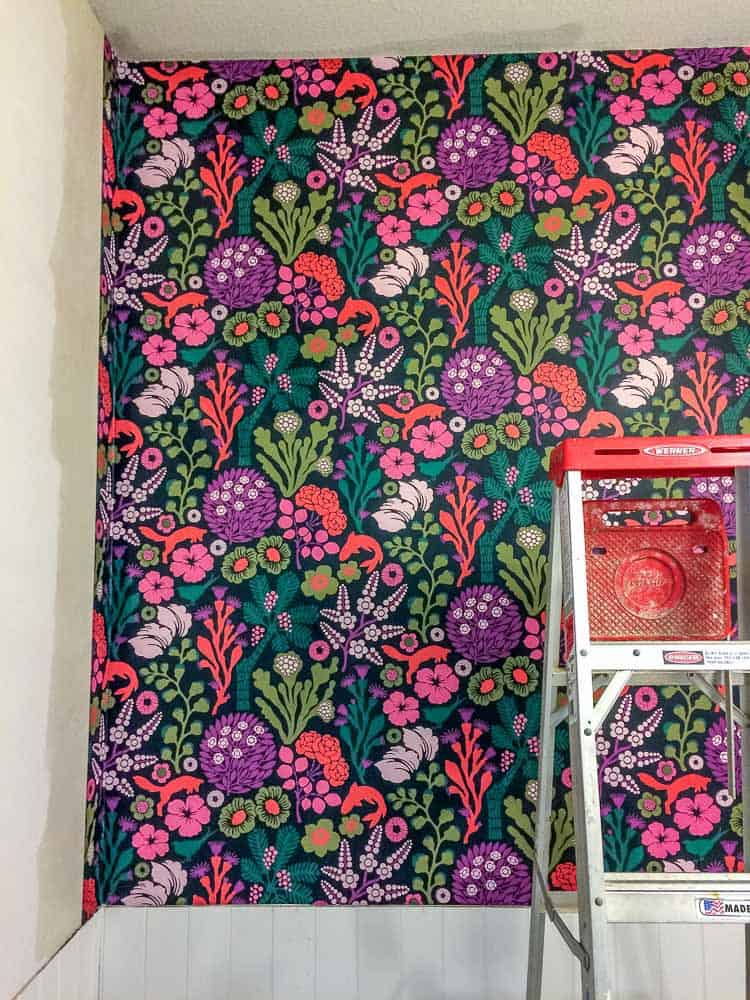 Corners are the hardest part of applying wallpaper, and advice differs here. Some recommend cutting at the corners, and some recommend pushing the paper into the corners in order to avoid difficult vertical cuts. We did the latter, but because our wallpaper is thick it didn't work as well as hoped, and ended up cutting down the corners after pasting.
You also have to cut around any light fixtures, outlets, and switches, which we did by making small holes before completely adhering the wallpaper piece in that area. Smoothing down the paper helps remove any errors, provided you keep those seams lined up!
Wallpapering took us approximately five hours, plus a few hours to install the top wainscoting trim and grout.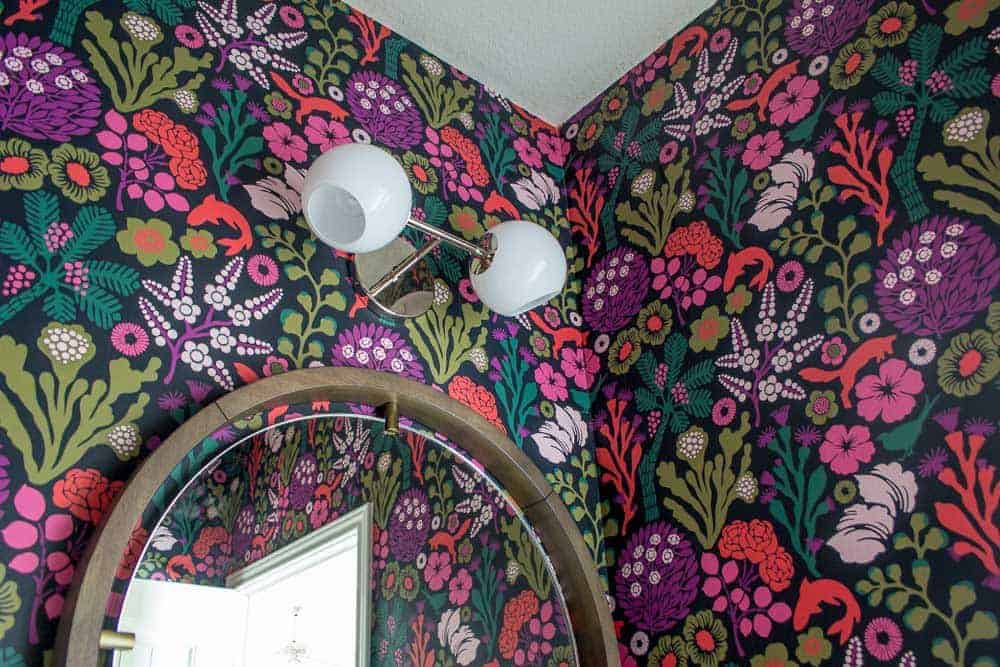 We replaced the lights, mirror, and fixtures as well, since our new wallpaper didn't quite go with those boring pieces! The lights and mirror both came from West Elm, and the toilet paper and towel bar are from Lowe's.
I finished the room with a couple of floating shelves from Target, accented by a candle (of course) and a handmade vase from local pottery star Keith Kreeger.
The wallpaper itself is via Wayfair/AllModern, made in Sweden by the brand Boråstapeter.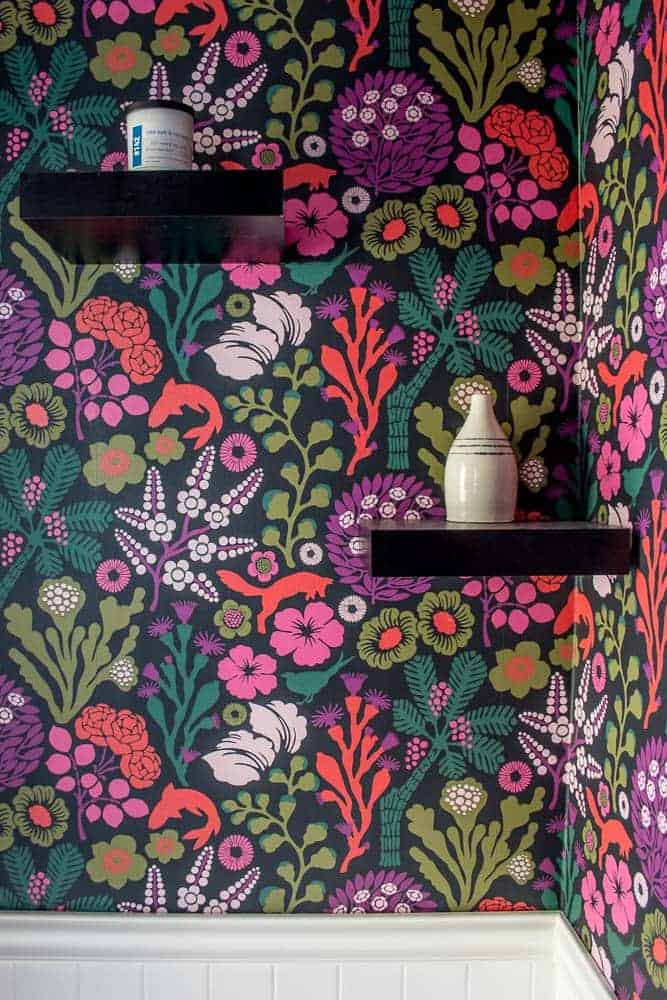 I'm obsessed with the results, and I'm not the only one! I had a Galentine's Day brunch and guests kept excusing themselves to take selfies in the bathroom. I don't blame them — I want to spend all my time in the powder room now!
The next time you need to refresh a room, try wallpaper!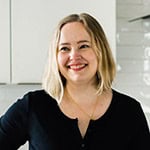 About Megan
I focus on fresh ingredients and easy methods, with spins that keep meals interesting. Dinnertime shouldn't be stressful or complicated, and I'm here to help you enjoy the time spent in the kitchen. Read more…