Pressed Italian Sandwiches
This post contains affiliate links. As an Amazon Associate, I earn from qualifying purchases.
Perfect for picnics and parties alike, these pressed Italian sandwiches have layer upon layer of flavor. They're made ahead of time so you can sit back and relax when it's time to eat.
When I was a kid, I never got very excited about the prospect of sandwiches, with one exception. Every year for the Superbowl we'd order subs from our favorite place near my dad's work, big bready things that put national sandwich chains to shame.
Maybe it was the idea of being able to choose whatever I wanted on the sandwich or just the ritual of the event, but even now I think about those sandwiches 1,500 miles away. My go-to? An Italian sandwich, with plenty of creamy Italian dressing.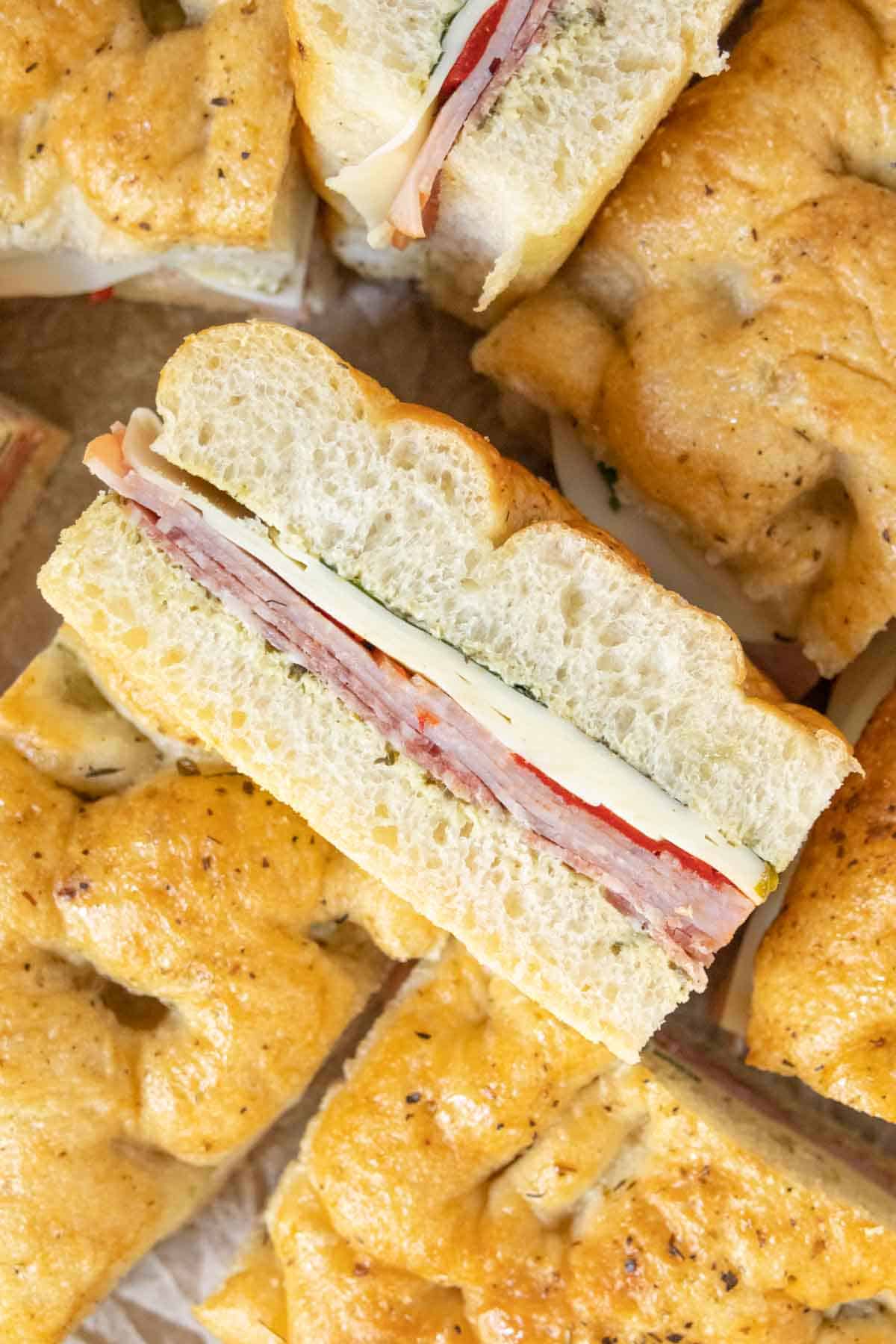 Now, I'm not sure how Italian those sandwiches actually are, but I love the flavors, and they're my go to for these pressed picnic sandwiches.
Pressed sandwiches are a wonderful option when feeding a family, packing a picnic, or getting lunches ready for the day.
The greatest thing about making these is that you can do them ahead of time. In fact, you need to!
In order for them to become "pressed" sandwiches, you need to rest the completed loaf under a heavy pan in the fridge at least overnight before cutting and eating.
As it rests, the flavors meld together and the bread is squished down. When you slice the rested loaf, you can see every layer, but there's no worry about toppings falling out in the picnic basket or on the way to your mouth.
Ingredients for pressed Italian sandwiches
You'll need: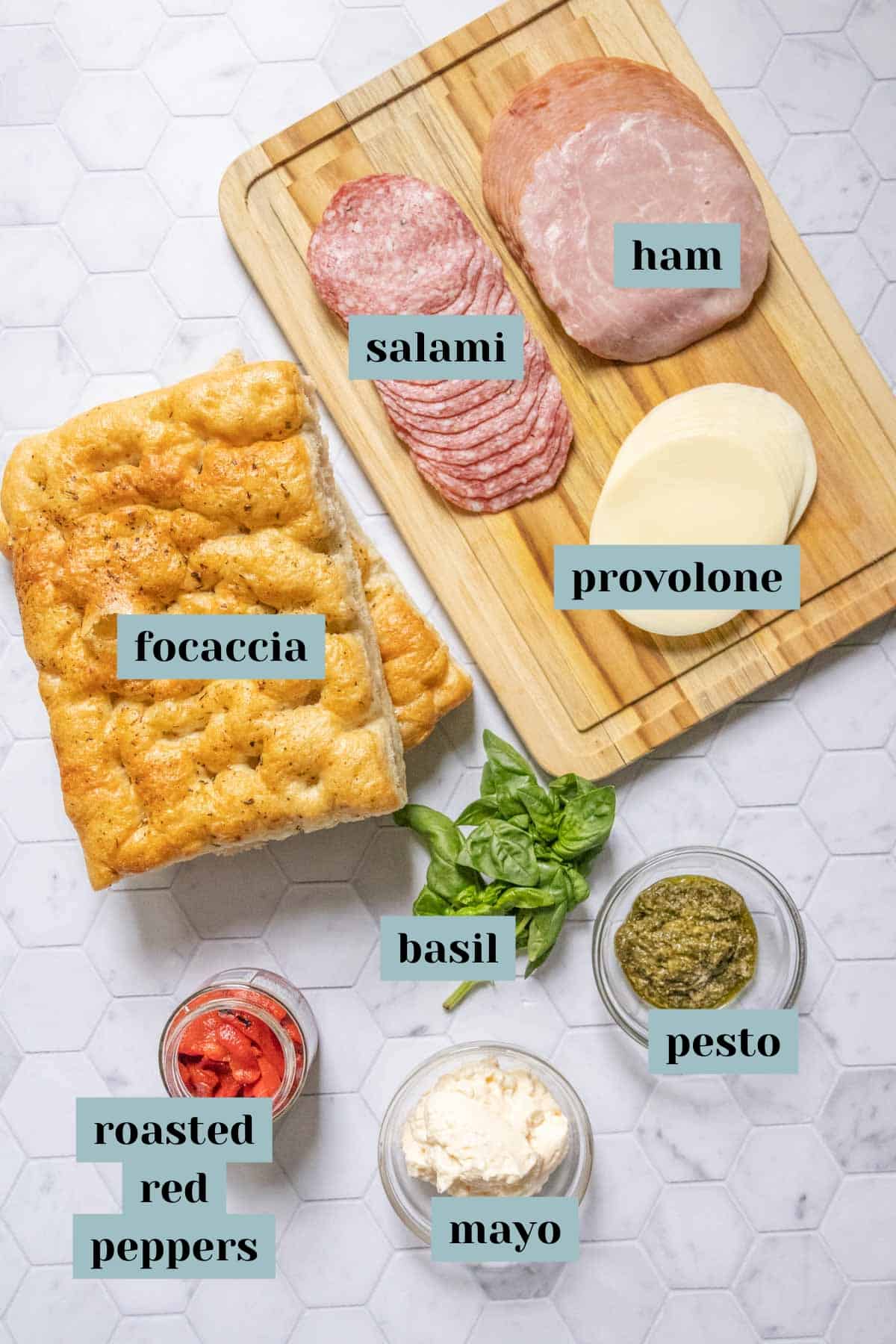 Focaccia bread – A sturdy bread is required for this sandwich to hold up. I love to use focaccia because it is wonderfully chewy and makes perfect, evenly sized sandwiches.
You can also use a ciabatta loaf, which will have a more crusty exterior and airy interior.
Salami – I like genoa salami for this sandwich. It's flavorful but not spicy, so it's ideal when serving these sandwiches to a large group. You could also use large slices of pepperoni or your other favorite salamis.
Ham – Use sliced deli ham. I like smoked ham for these sandwiches.
Provolone – Thinly sliced provolone is perfect for these. If you can't find the thin slices, don't worry. Regular provolone will work; you'll just make fewer layers of cheese.
Roasted red peppers – Look for roasted red peppers near the pickled vegetables. I prefer the red peppers that are packed in water, not the oil marinated peppers. Make sure to drain them well.
You can also roast your own red peppers.
Mayonnaise – Mayo is the base of the spread. I recommend using a full-fat mayo for the best flavor. Do not use Miracle Whip.
Pesto – Homemade pesto is wonderful for this sandwich, but jarred pesto will also do! 
If you are purchasing jarred pesto, I like the Barilla brand the best.
Basil – Fresh basil leaves are added as the final sandwich component. You can use as few or as many as you'd like; there's no need to completely cover the sandwich. Make sure the leaves are washed and patted dry before using.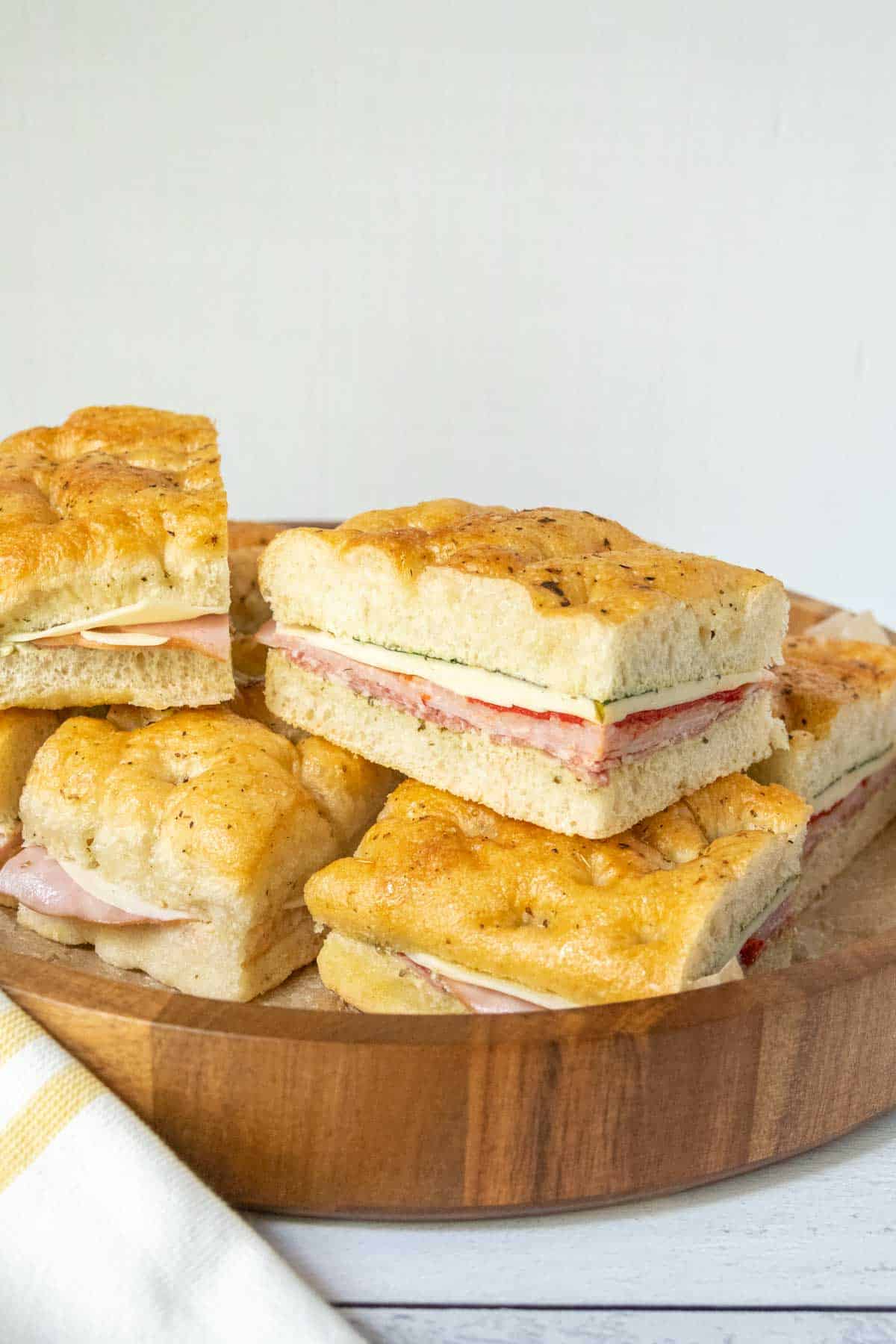 How to make this recipe
First, place a large piece of plastic wrap across a sheet pan. It should be big enough that it hangs over on all sides — you might need to use two pieces if your wrap is not very wide.
Slice the focaccia in half through the middle and place the bottom layer on top of the plastic on the sheet pan. Place the top layer cut-side up on the cutting board.
In a small bowl, mix together the mayonnaise and pesto until blended. Spread evenly on both the top and bottom pieces of bread.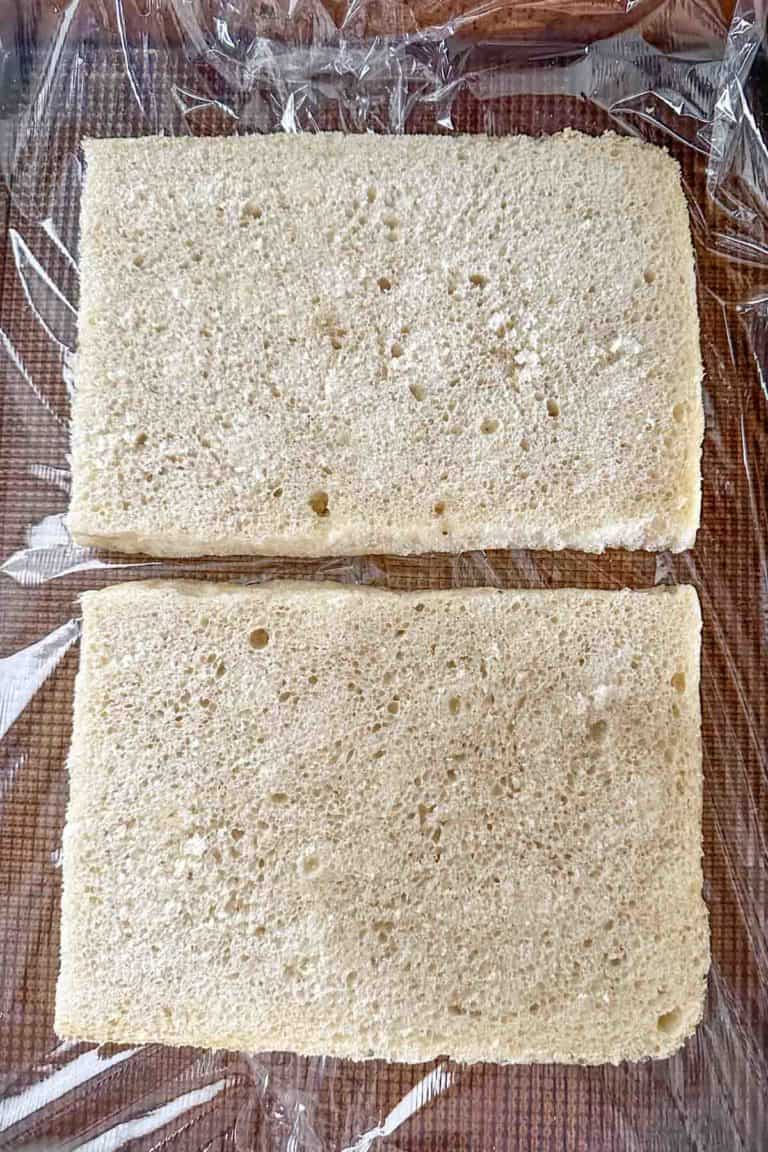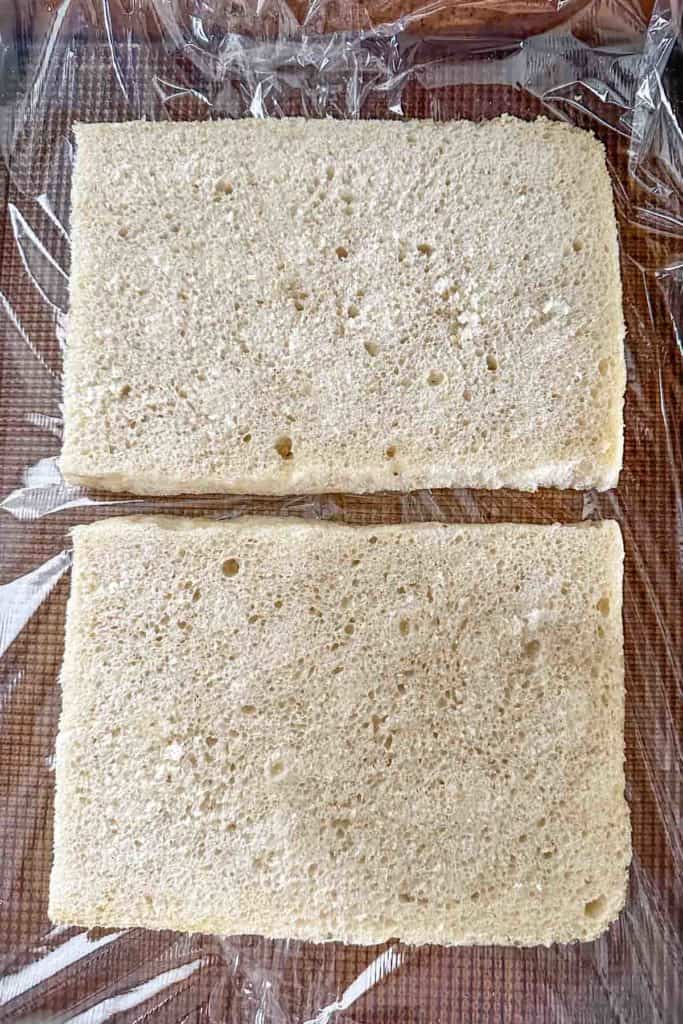 Arrange the salami on the bottom bread, overlapping slices as needed. Top with the ham, overlapping again.
Place the roasted red pepper on top of the meat, arranging the pieces evenly.
Layer on the cheese, then top with basil leaves.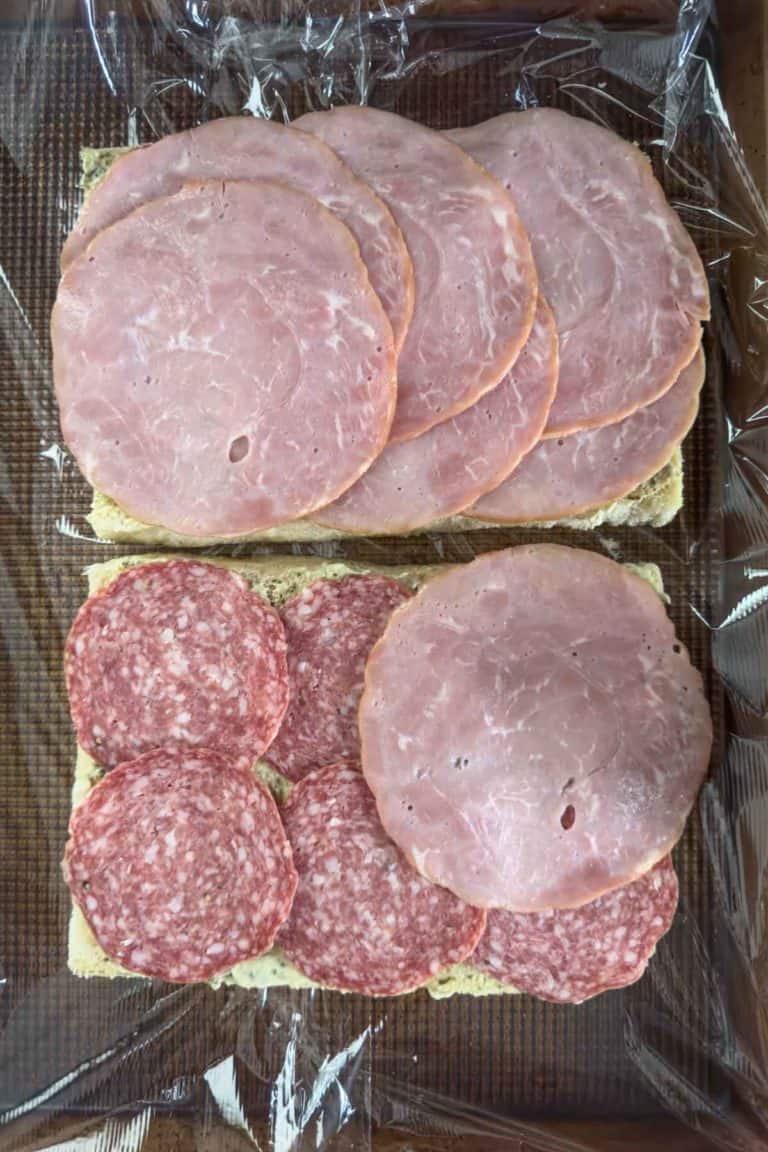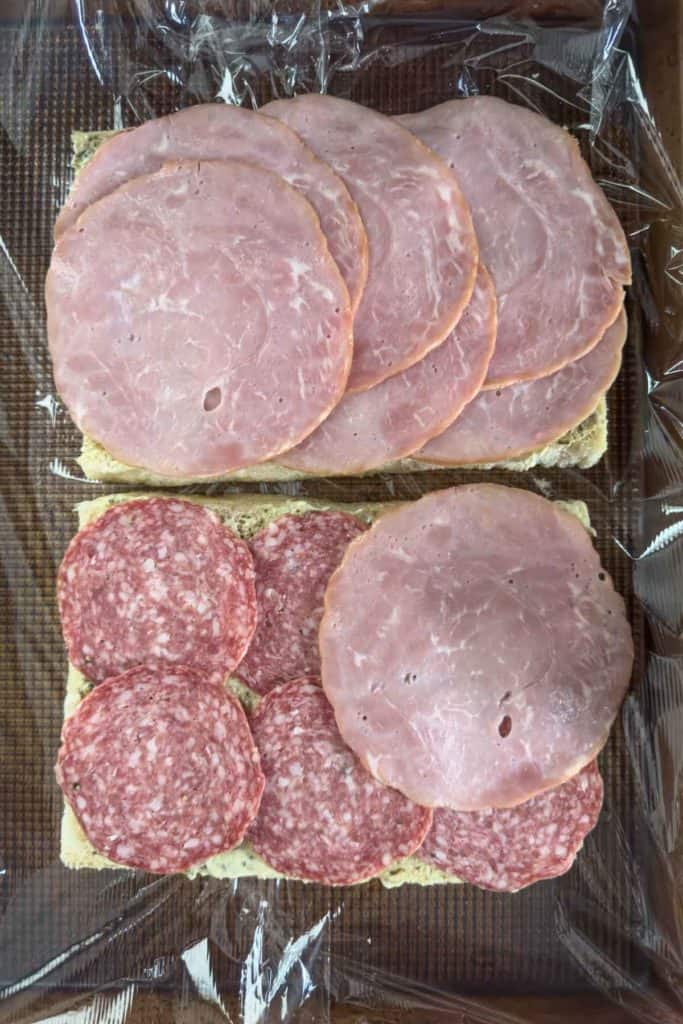 Place the top of the bread, then bring up the sides of the plastic wrap and wrap the sandwich tightly.
Set a heavy pan on top of the sandwich. Cast iron is best, but if you don't have one, you can use a regular pan or baking pan and fill it with heavier items to press the sandwich.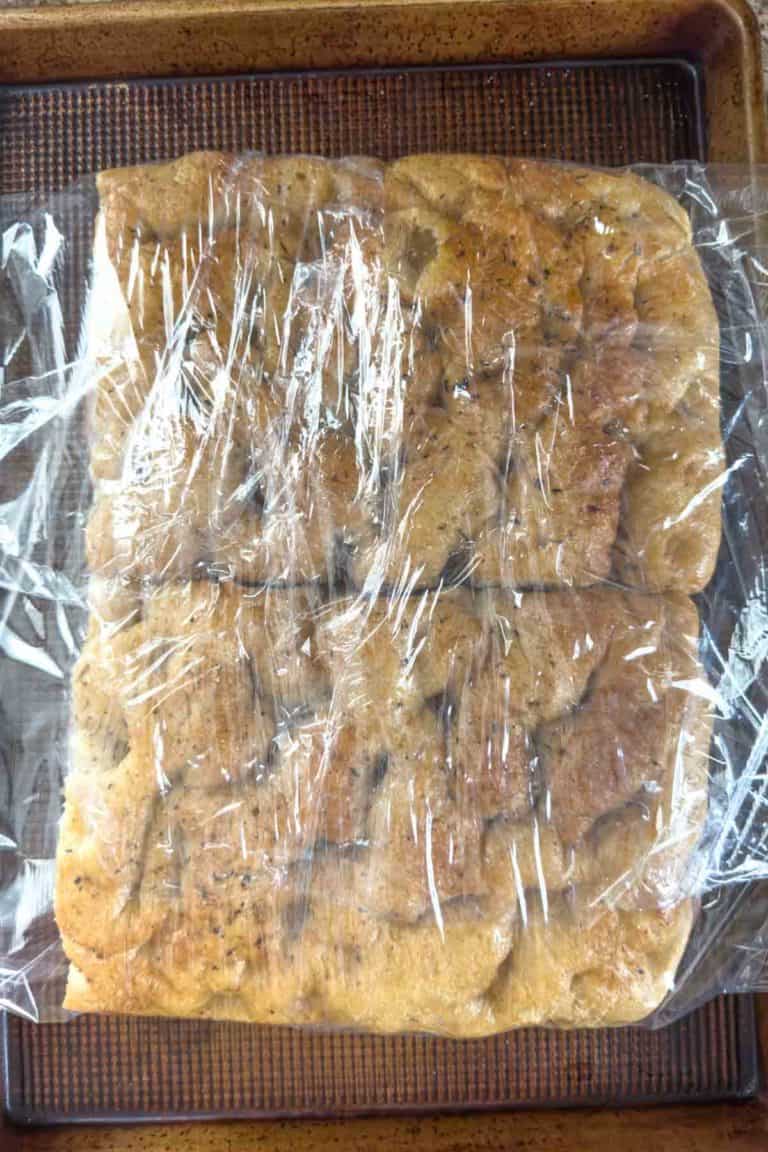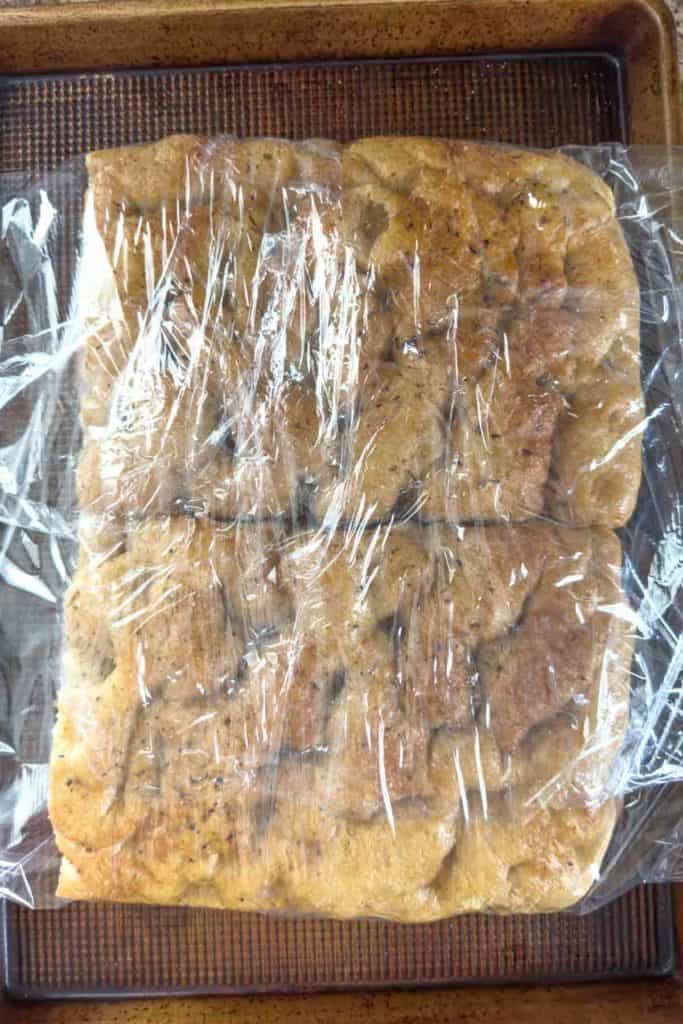 Place the sheet pan, sandwich, and heavy pan in the refrigerator. Chill for at least 8 hours, but preferably 24 hours.
When you're ready to serve, unwrap the sandwich and cut into desired number of sandwiches.
This recipe makes 8 meal-size sandwiches, or 16 snack sandwiches.
Recipe suggestions
Instead of pesto, use a creamy dressing for the spread, like Caesar dressing or garlic dressing. Or, try an olive tapenade on top of the mayonnaise.
Use fresh baby spinach, arugula, or spring greens in place of or in addition to the basil leaves.
Instead of ham try mortadella or smoked turkey. Or use shredded chicken and cooked bacon for a pressed club sandwich.
Add other vegetables like thinly sliced red onion or tomato. If using tomato, make sure to pat the slices try to prevent the sandwich from getting too soggy.
Instead of provolone, try slices of fresh mozzarella (patted dry), or sliced smoked gouda.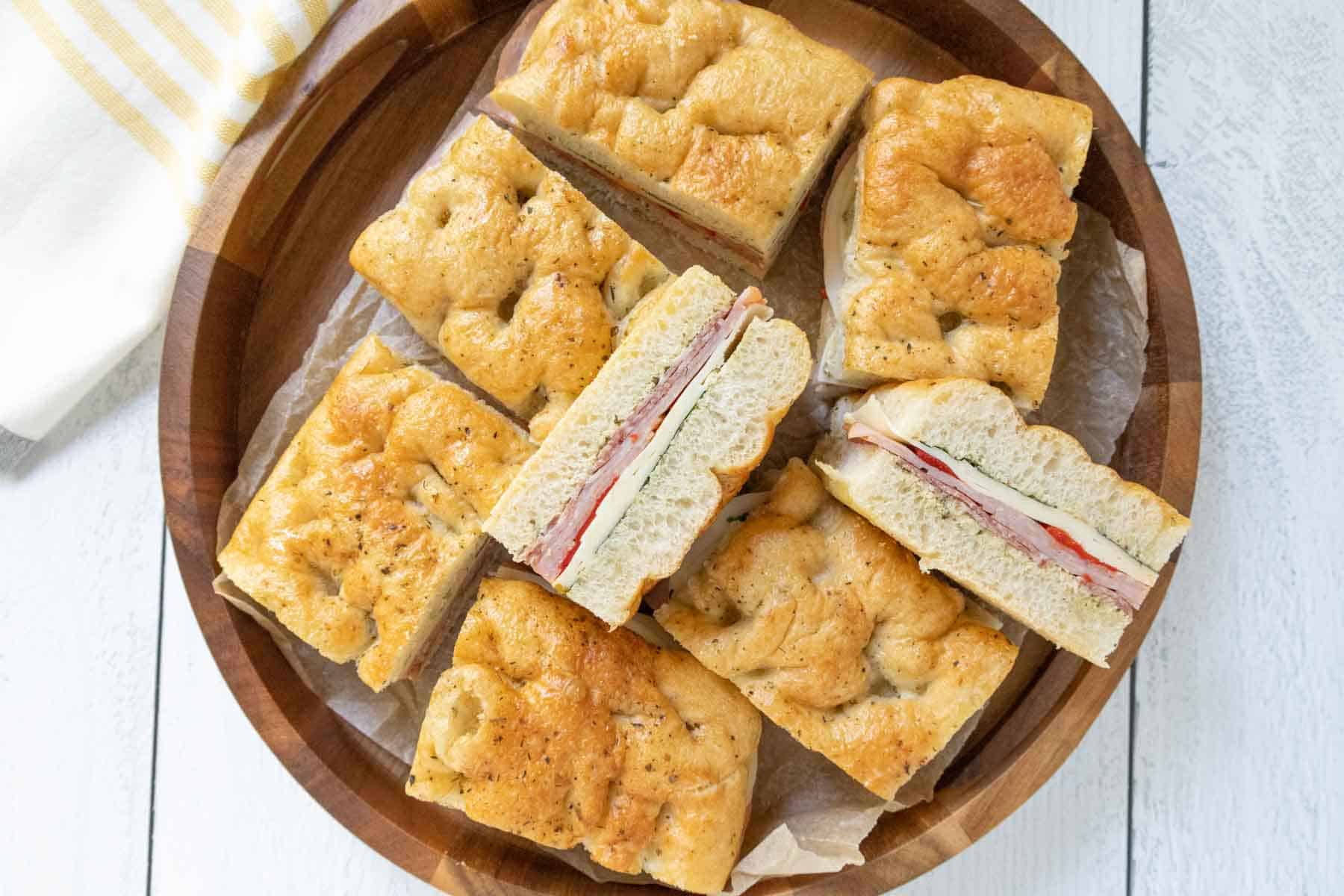 Storage tips
Because these sandwiches are made ahead and pressed in the refrigerator, they store well.
Once you slice the sandwiches, store them in an airtight container, or wrap each one separately in plastic wrap or foil. They will keep for up to 4 days.
Pressed Italian sandwiches are not freezable.
FAQ
How to roast red peppers
You can purchase jarred roasted peppers, or you can roast your own.
To roast, preheat the oven to 450°F and line a baking sheet with foil.
Slice the desired number of peppers in half. Remove seeds, membrane, and green top.
Place cut-side down on the baking sheet. You can also roast the peppers whole if you prefer.
Roast for 20-25 minutes, until tops are charred and skins are wrinkled.
If you are roasting whole peppers, they will take longer to roast. Turn them every 15 minutes to evenly roast on all sides.
Once roasted, let the peppers cool until easy to handle, then gently pull skins off and discard.
You can also place the hot peppers in a bowl and cover for 10 minutes to help loosen the skins.
Use your roasted peppers as desired!
Are Italian pressed sandwiches cooked?
Unlike a panini, which is pressed as it cooks, these sandwiches are not cooked.
The pressing happens during the chilling time, helping the flavors meld together and creating a compressed, but not flat, sandwich.
If you want to eat this sandwich warm, it can be heated in an oven at 400°F for 5-10 minutes.
How do I make my sandwich not soggy?
Often, fully assembled sandwiches get soggy in the refrigerator. This is a result of the ingredients used, and sometimes, how they are layered.
To make sure your Italian sandwich isn't soggy, use drier bread like focaccia, and make sure the ingredients are cold or room temperature, not warm.
Because the mayonnaise-pesto spread is thicker than a vinaigrette or other sandwich dressing, it does not soak into the bread as much.
It's also important to drain your red peppers well to remove that extra moisture, which could contribute to sogginess.
Layer your sandwich with the meat at the bottom and wetter ingredients toward top, so any wetness travels downward and is stopped by the meat and cheese.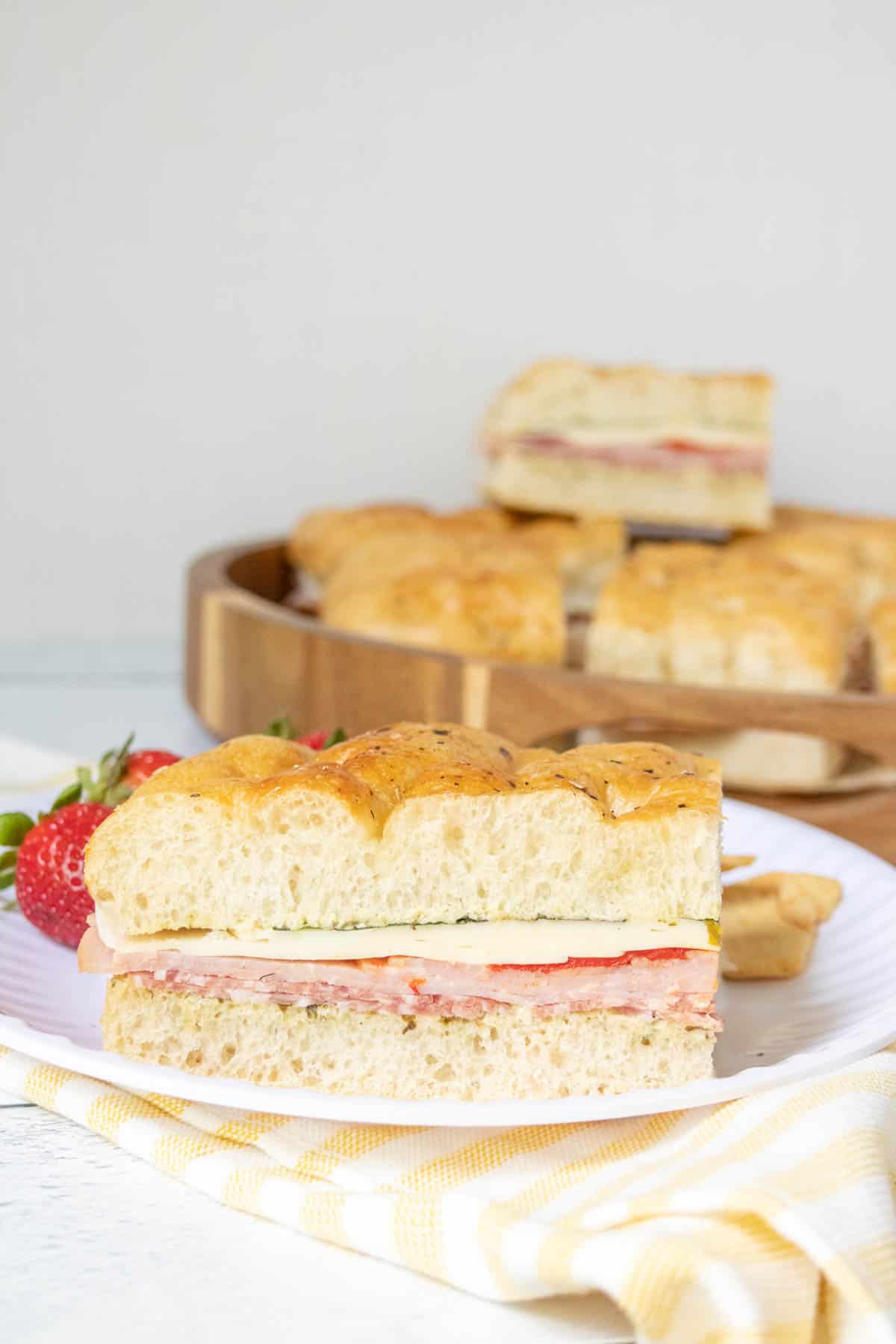 What to serve with pressed Italian sandwiches
These picnic sandwiches are great with any of your favorite picnic salads, like tortellini pasta salad or strawberry spinach salad.
Serve them with pita chips or pretzels, or a simple array of fresh fruit.
Have a cold pitcher of homemade vanilla lemonade to wash it down!
Love this recipe? Please leave a 5-star review below! It means so much when you enjoy my recipes, so let me know how it goes and leave a comment if you have any questions.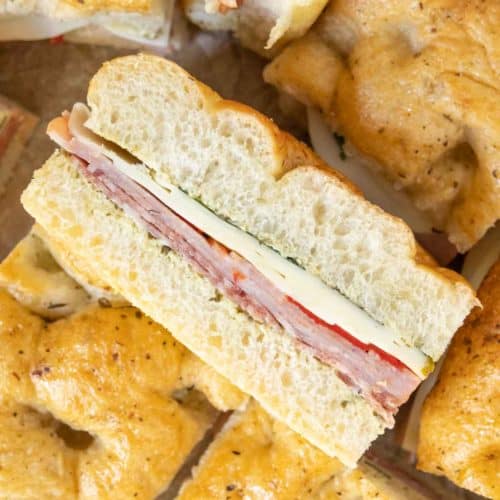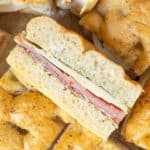 Pressed Italian Sandwiches
These easy make-ahead Italian sandwiches are perfect for picnics and parties alike.
Print
Pin
Save
Saved!
Ingredients
1

loaf

focaccia bread

1/2

cup

mayonnaise

1/4

cup

pesto

4

ounces

sliced Genoa salami

8

ounces

thinly sliced ham

8

ounces

sliced provolone

7

ounces

roasted red peppers

,

drained

1/2

cup

fresh basil leaves
Instructions
Line a baking sheet with a large piece of plastic wrap, overhanging on all sides. Use two pieces if your wrap is not wide enough.

Slice focaccia through the middle and place the bottom on the plastic wrap, cut side up. Place the top on the cutting board, cut side up.

In a small bowl mix together the mayonnaise and pesto. Spread evenly on both the top and bottom pieces of bread.

Layer on the genoa and ham, overlapping slices as needed to fit. Top with roasted red pepper slices, then overlapping slices of cheese. Add the basil leaves, then place on the top piece of bread.

Bring up the sides of the plastic wrap and wrap the sandwich tightly. Set a heavy pan on top of the sandwich, and transfer the stack to the refrigerator. Let rest for at least 8 hours, or preferably 24 hours.

When ready to serve, unwrap sandwich and cut into 8 pieces for meal-size sandwiches, or 16 pieces for snack sandwiches.
Nutrition
Calories:
485
kcal
Carbohydrates:
26
g
Protein:
21
g
Fat:
33
g
Saturated Fat:
10
g
Cholesterol:
55
mg
Sodium:
1630
mg
Potassium:
217
mg
Fiber:
1
g
Sugar:
1
g
Iron:
1
mg
Nutrition information is provided as a courtesy and is an estimate based on online calculators. Any nutritional information found on Stetted should be used as a general guideline only.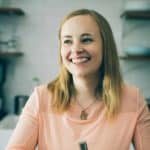 About Megan
I focus on fresh ingredients and easy methods, with spins that keep meals interesting. Dinnertime shouldn't be stressful or complicated, and I'm here to help you enjoy the time spent in the kitchen. Read more…