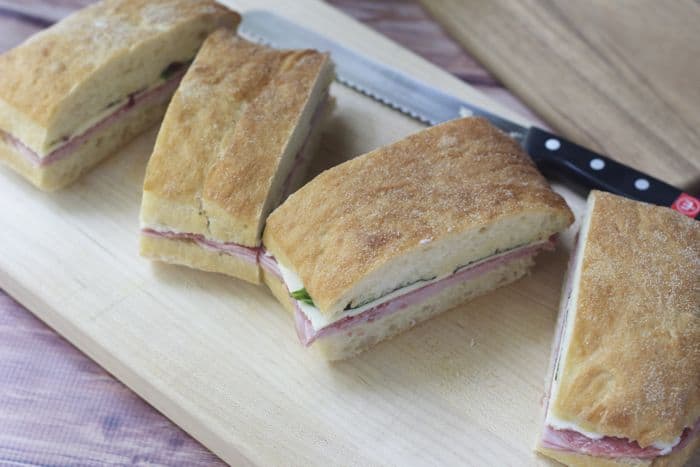 When I was a kid, I never got very excited about the prospect of sandwiches, with one exception. Every year for the Superbowl we'd order subs from our favorite place near my dad's work, big bready things that put national sandwich chains to shame.
Maybe it was the idea of being able to choose whatever I wanted on the sandwich or just the ritual of the event, but even now I think about those sandwiches 1,500 miles away. My go-to? An Italian sandwich, with plenty of creamy Italian dressing.
When I started thinking about sandwiches for fall, the season of the sandwich, I inevitably fell back on the flavors of Italian sandwiches. Pepperoni, ham, plenty of onions, an oil-and vinegar dressing. These ingredients are great for any sandwich, but they're particularly ideal for pressed sandwiches.
Pressed sandwiches are a wonderful option when feeding a family, packing a picnic, or getting lunches ready for the day. I know that the last thing I want to do at 6:30 in the morning is pack lunches — keeping in mind my son's current tastes, any activities he might have that day, whether he'll eat last night's leftovers, if we have any fresh fruit left in the house — so I'll take as many shortcuts as possible while still being able to provide a home-packed lunch. Pressed sandwiches are made ahead of time and stored in the fridge overnight, making lunch as easy as grab and stuff.
My version uses a homemade vinaigrette, though you can use any other dressing or spread you like. Don't skimp on the dressing, because it will meld into the sandwich as it rests, distributing the flavor all through the thick bread. Do make sure to use a bread like focaccia or ciabatta, which will stand up to the ingredients and not be too mushy or too hard after pressing.
It might not be the Italian sandwich of my childhood, but it's a pretty darn good substitute.
See my post for Pressed Italian Sandwiches over on Recipe.com!
For more tasty inspiration, check out my Recipes from Stetted board on Pinterest!
Follow Megan Myers | Stetted's board Recipes from Stetted on Pinterest.