28 Peach Recipes for a Sweet Summer
This post contains affiliate links. As an Amazon Associate, I earn from qualifying purchases.
Peaches are synonymous with summer, and for good reason.
If you're a peach fan, there's nothing quite like eating a perfectly ripe peach, standing over the sink to catch all the falling juices. It's sticky business, to be sure, but one we look forward to each summer.
what kind of peaches should I cook with?
Peaches have many varieties, but the main classification is between clingstone and freestone peaches.
Clingstone peaches are those that have the fruit "cling" to the pit. These are a bit harder to get perfect slices from, so work best for jams, cakes, sauces, or anything else that requires chopped peaches.
Freestone peaches do not have the fruit cling to the pit, so you can easily slice the peach in half, remove the pit, and cut slices.
Freestone peaches are ideal to use for beautiful cakes, pies, or salads.
how do I peel peaches?
Peeling peaches without losing flesh is very easy.
Using a paring knife, slice a small X into the bottom of the peach.
Place the peach in a pot of boiling water for about 1 minute, then remove to a bowl of ice water.
As the peach cools, the peel will loosen and you will be able to easily pull away the peel.
Peaches are incredibly versatile, and work well in both sweet and savory dishes. Check out these peach recipes to get your fix!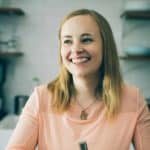 About Megan
I focus on fresh ingredients and easy methods, with spins that keep meals interesting. Dinnertime shouldn't be stressful or complicated, and I'm here to help you enjoy the time spent in the kitchen. Read more…