This post contains affiliate links. As an Amazon Associate, I earn from qualifying purchases.
Tangy and earthy, pickled beets are an easy-to-make snack or appetizer! Enjoy alone or on salads and sandwiches.
My dad has been a fan of pickled beets for as long as I can remember.
They often made an appearance on our holiday relish tray, even if he was the only one to eat them.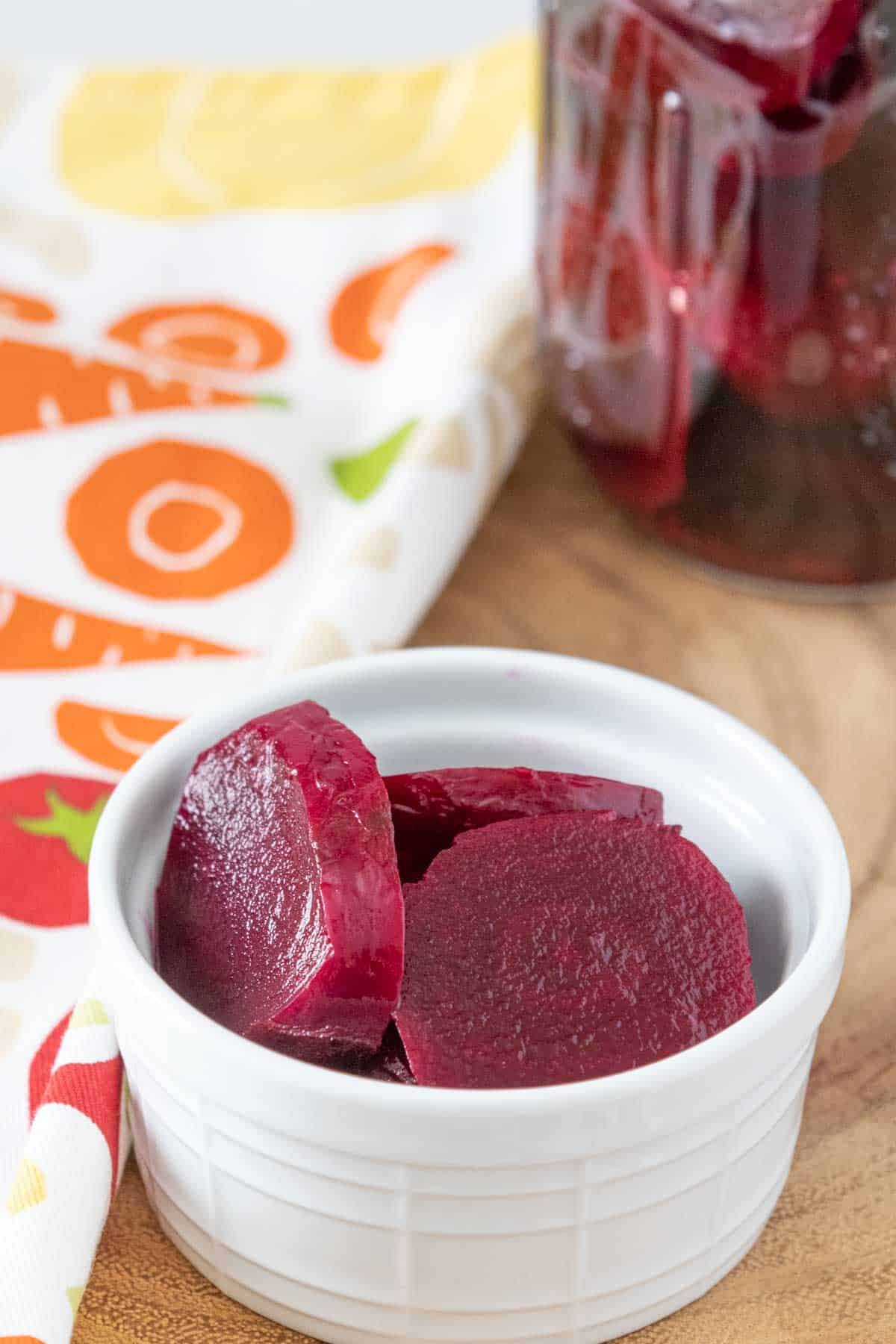 Over the years beets have grown on me, but I don't see many people eating them these days. Let's change that!
While beets might not be as popular as they once were, pickled beets are a great way to eat these sweet, earthy vegetables.
Ingredients for pickled beets
To make pickled beets, you'll need a few ingredients, plus canning jars. I used two pint jars for this recipe. If you are storing the beets in the refrigerator and not canning, a quart jar will also work well.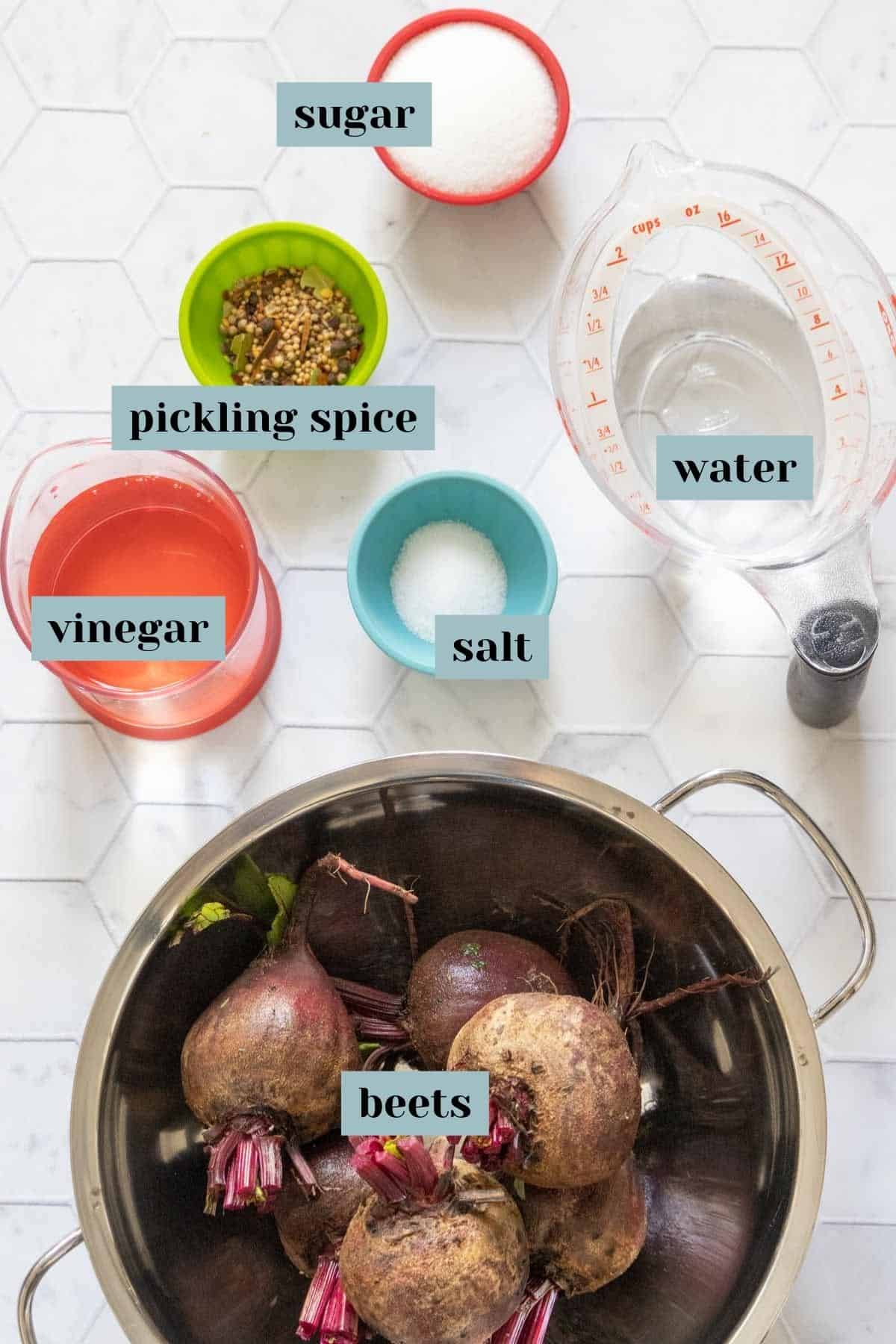 Beets – Look for beets that are small to medium size rather than large beets. Smaller beets are more tender and sweeter.
Beets should feel heavy and firm. If you are buying beets with the tops still attached, the greens should be bright and not wilted.
Vinegar – I use distilled white vinegar for most of my pickles. You can substitute cider vinegar or white wine vinegar. Make sure whatever vinegar you use is at least 5% acidity for canning safety.
Water – Water combines with the vinegar to make a brine. You can use less water, but make sure that your water content does not exceed 50% of the vinegar-water combo.
If you have more water than vinegar, your brine will not have a high enough acid content, and will be unsafe for canning.
Sugar – Sugar content in pickled beets varies. I add just enough sugar to sweeten the flavor without overpowering the natural sweetness of the beets. I recommend trying this recipe first before adjusting the sugar content.
Pickling salt – Pickling salt is a very fine salt that dissolves easily in liquids, making it perfect for brines.
Pickling salt is usually only available in a large box, but it will last a long time if stored properly.
Pickling spice – To flavor our beets, pickling spice is added. This is available in the spice section of the grocery store.
In the summer, many stores also carry dill pickle spice packets, but this is for cucumber pickles, not beets.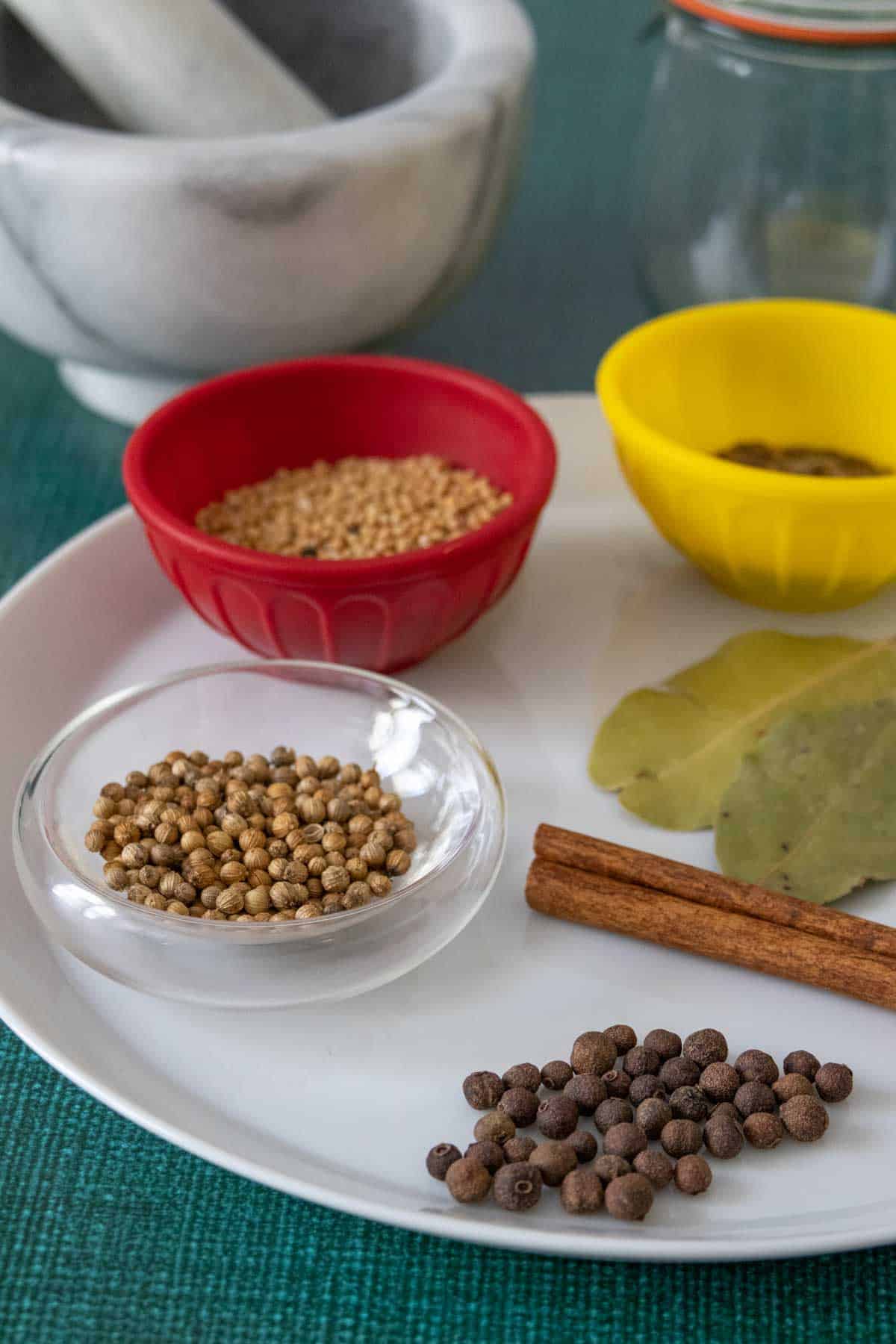 What's in pickling spice?
Pickling spice can vary a lot. You can purchase a packaged blend from the grocery store or a spice shop, or make your own pickling spice.
Typically, pickling spice has any combination of the following:
Whole peppercorns
Mustard seed
Dill seed
Celery seed
Crushed red pepper flakes
Bay leaves
Cinnamon sticks
Whole allspice
Coriander seed
If you like a spicier pickle, add more red pepper flakes, or even a whole small dried pepper. You can also add a garlic clove or two.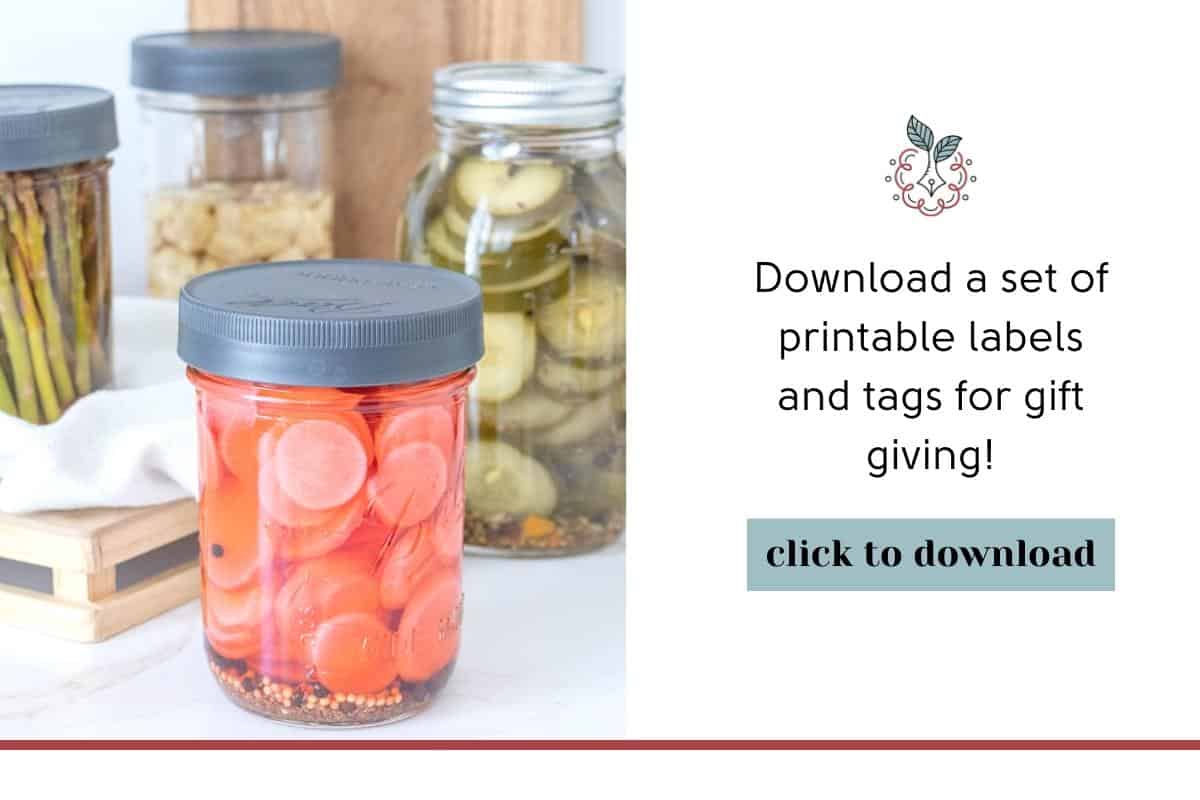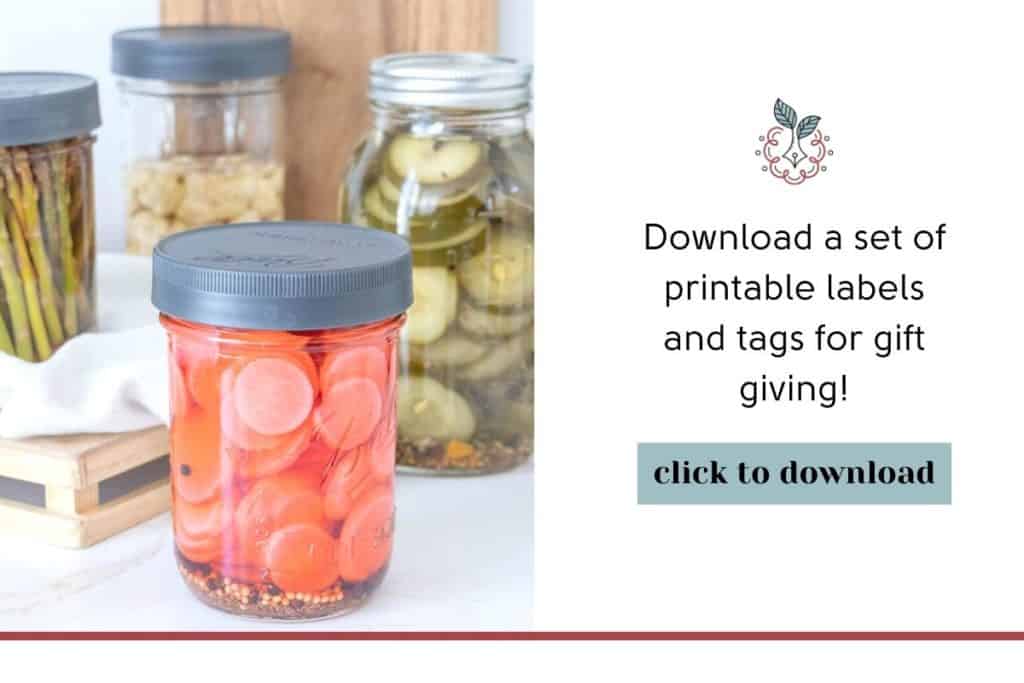 How to make pickled beets
To make this pickled beets recipe, first you'll need to cook the beets.
Roasting the beets is the best method for this as it doesn't require cutting ahead of cooking, sweetens the beet flavor, and preserves the color.
To roast the beets, wash gently and pat dry. If the greens are attached, slice them off but leave 1/2 to 1 inch to avoid cutting into the top of the beet. You can also cut off the root tail if it is extra long.
Wrap each beet in a piece of foil, making a small packet. Place the packets on a foil-lined baking sheet.
Roast the beets at 400°F for 45-60 minutes, until the beets are easily pierced with a fork.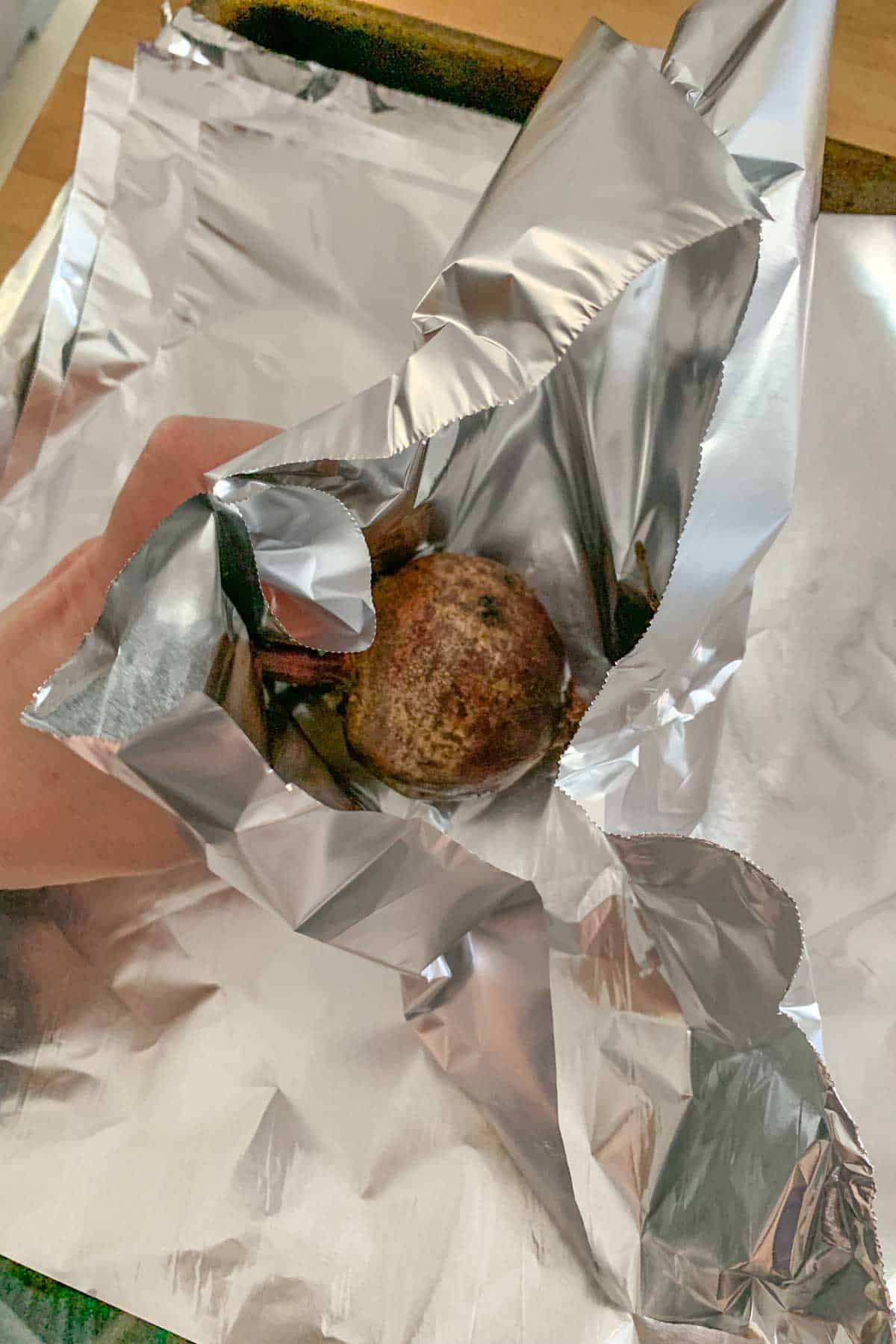 Let the beets cool inside their packets until the are easy to handle, then peel off the skins. Cutting off the very top of the beet can help get the peeling started.
tip
Wear disposable kitchen gloves and work over the foil packets set on a plastic cutting board to prevent staining.
Slice the beets into rounds about 1/4-inch thick, or into wedges.
Divide the pickling spice among 2 pint jars. (If using smaller jars, simply divide equally among them.)
Pack the beet slices into the jars.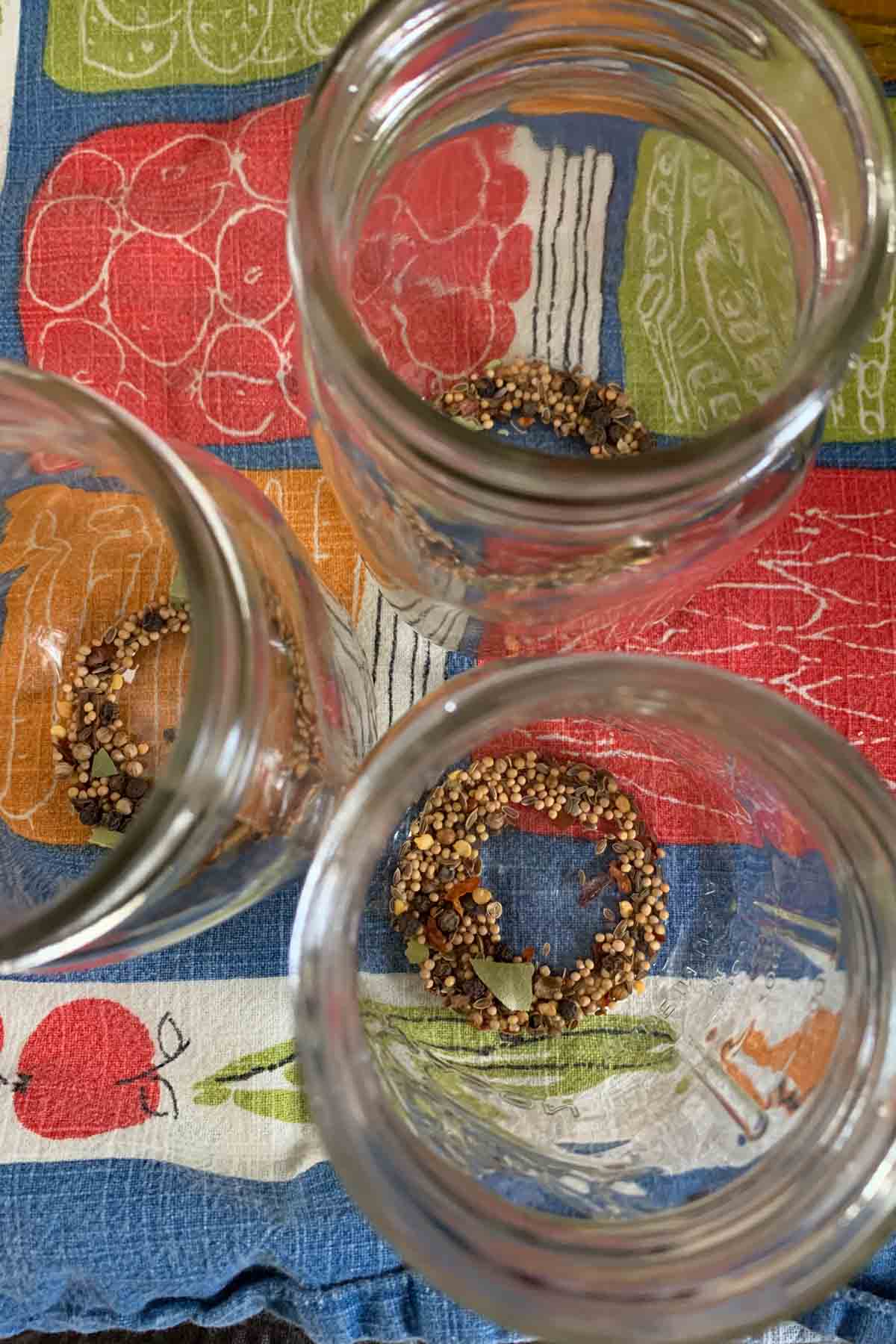 Make the brine by combining the vinegar, water, sugar, and salt in a small saucepan.
Bring this to a boil, stirring to dissolve the sugar and salt.
Once completely dissolved and hot, carefully pour the brine into the beet-filled jars, leaving 1/4-inch headspace at the top of the jar.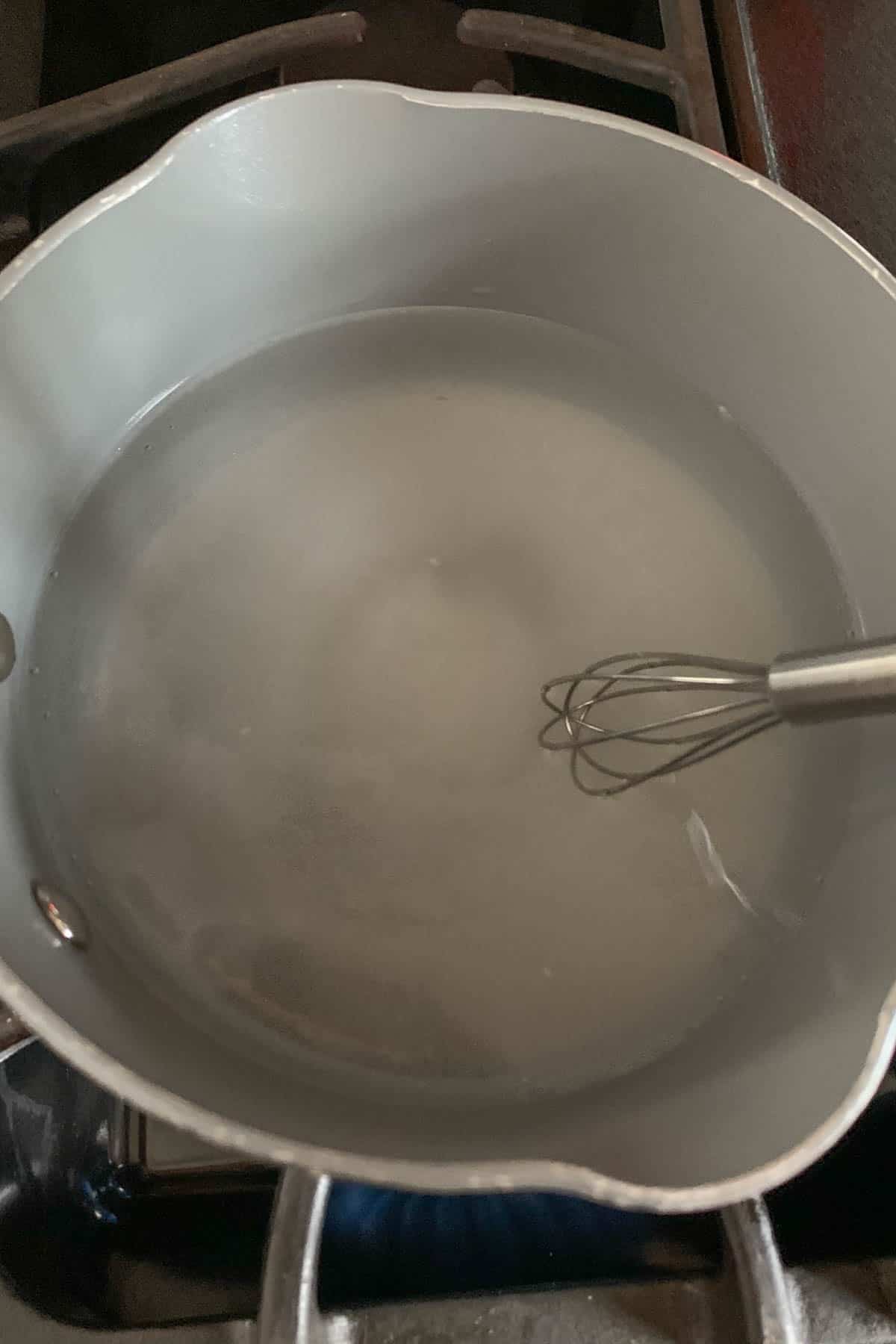 Use a chopstick or wooden dowel to remove any trapped air bubbles, by gently pressing on the beets.
Place on lids and screw on rims. If storing in the refrigerator, let cool to room temperature, then keep in the fridge.
How to prepare pickled beets for canning
To can these pickled beets, prepare a water bath canner while the beets are roasting by filling with water and bringing to a boil.
After filling the jars, make sure the jar rims are screwed on fingertip tight, then use a jar lifter to lower the jars into the boiling water bath.
Place the lid on the pot and let boil for 20 minutes.
After 20 minutes, turn off the heat and let the jars rest in the water for 5 minutes, then carefully remove using the jar lifter.
Set the jars on a towel-lined countertop and let rest for 24 hours before moving.
You should hear the jars "ping" during this time; this means the jars have sealed and can be stored in the pantry.
remember!
Any jars that have not been processed and sealed need to be stored in the refrigerator!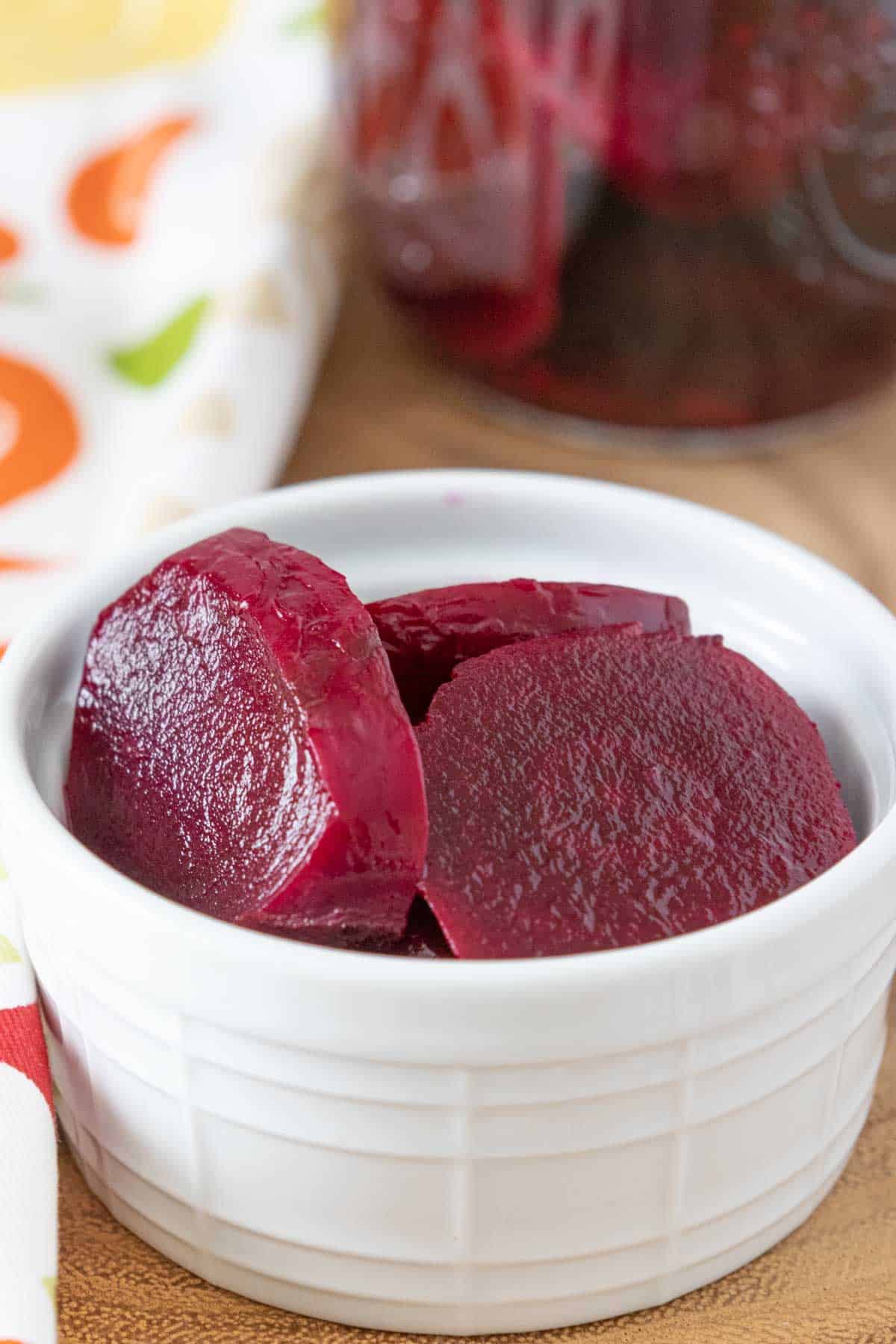 Ways to use pickled beets
While you can definitely just eat these beets straight from the jar, why not try featuring them in a dish?
Pickled beets are great in salads, such as this beet arugula salad.
Pair pickled beets with goat cheese to make a surprisingly tangy sandwich.
Make a crunchy, fresh pickled beet and cucumber salad, featuring a creamy sauce.
Chop and add as a garnish to ramen, chili, or roast beef.
FAQ
What kind of beets do you need for pickles?
Beets come in many varieties, including red, golden, chioggia, and more.
I recommend using red/purple beets or golden beets for pickling.
Striped beets like chioggia can lose their beautiful patterning during the cooking process, so keep that in mind if you plan to use them.
Can I use canned beets to make these pickles?
If you don't want to roast and slice fresh beets, you can use canned beets to make pickles.
Make sure they are rinsed and well drained.
How long do pickled beets last?
Stored in the refrigerator, pickled beets will last for about 1 month.
If you have processed the jars in a canner, they will keep in a cool, dark place for 18 months. Discard any jars that have lost their seal or leaked in storage.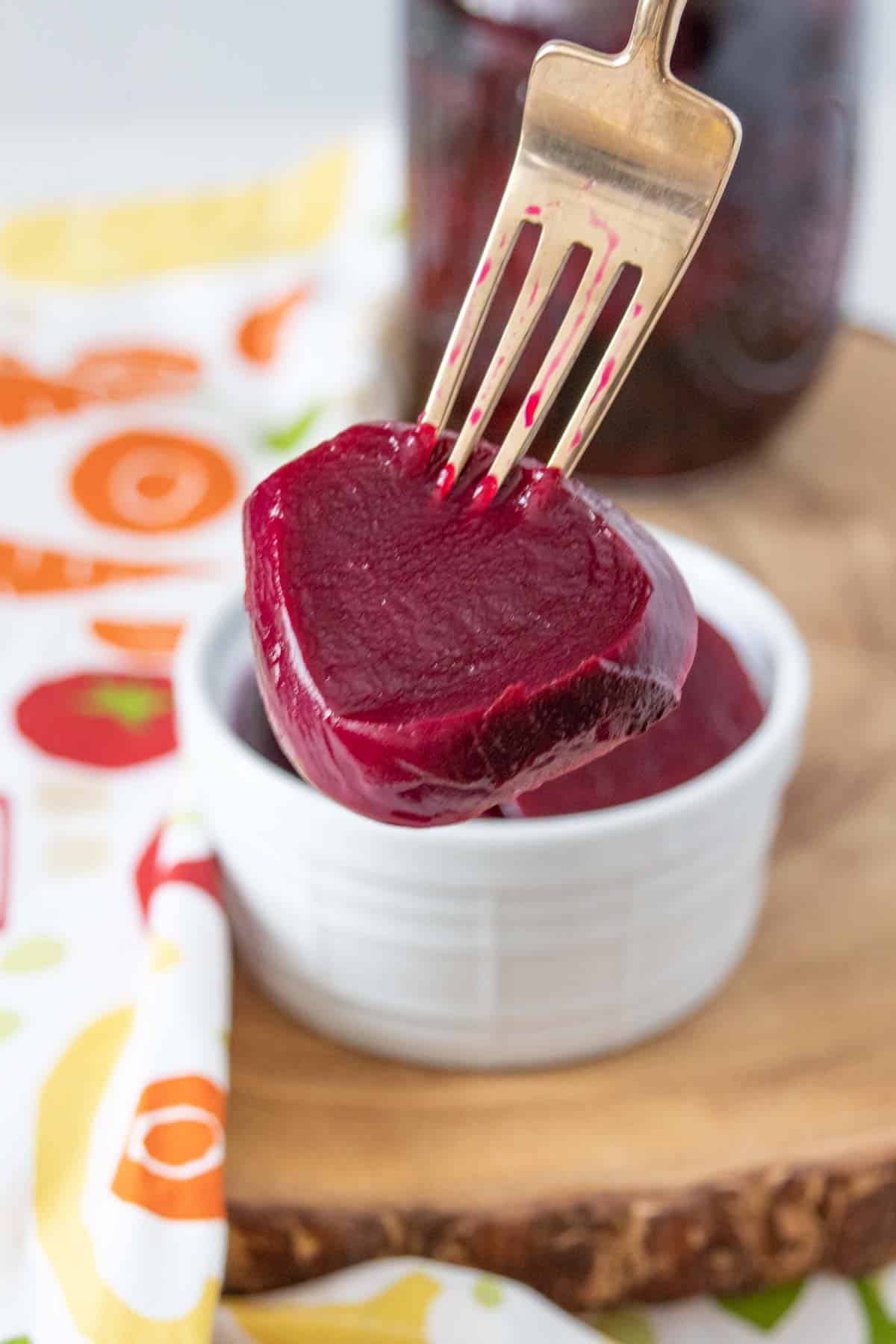 More pickles to love
Looking for other pickle recipes? Try these:
Love this recipe? Please leave a 5-star review below! It means so much when you enjoy my recipes, so let me know how it goes and leave a comment if you have any questions.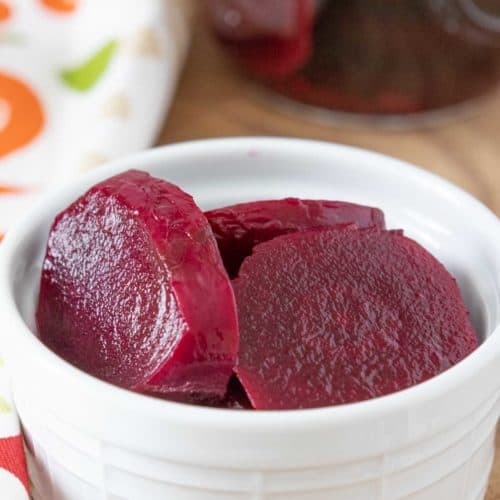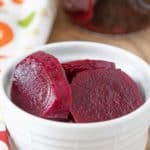 Pickled Beets
Tangy and earthy, pickled beets are an easy-to-make snack or appetizer! Enjoy alone or on salads and sandwiches. Makes 2 pint jars.
Print
Pin
Save
Saved!
Ingredients
2

pounds

beets

1

tablespoon

pickling spice

1

cup

white vinegar

1

cup

water

1/4

cup

granulated sugar

1

teaspoon

pickling salt
Instructions
To roast beets
Preheat oven to 400°F. Wash beets and trim off greens. Wrap each beet in a piece of foil, creating a packet, and place packets on a foil-lined baking sheet. Roast 45-60 minutes, until easily pierced with a fork.

Let beets cool until easily handled, then peel and slice into ¼-inch rounds, or wedges.
To make pickles
Divide pickling spice among 2 pint jars. Pack sliced beets into jars.

In a small saucepan, combine vinegar, water, sugar, and pickling salt. Bring to a boil, whisking to dissolve sugar and salt.

Pour over beets, filling the jar with ¼-inch headroom. The beets should be completely covered, but you might not use all the brine. Use a chopstick or wooden dowel to remove any air bubbles.

Screw on lid(s) and let cool to room temperature before transferring to the refrigerator.
To can in a water bath
While beets are roasting, fill a canning pot with water and bring to a boil.

After filling jars, place lids and screw on rims to fingertip tight, then lower carefully into canning pot using a jar lifter.

Cover pot and process 20 minutes, then turn off heat and let jars rest 5 minutes. Remove from pot with jar lifter and place on a towel-lined surface. Let rest 24 hours before transferring to the pantry.
Notes
Any jars not processed and sealed in a water bath must be stored in the refrigerator.
Let pickle for at least 48 hours before eating for best flavor.
Nutrition
Calories:
81
kcal
Carbohydrates:
18
g
Protein:
2
g
Fat:
0.3
g
Saturated Fat:
0.05
g
Sodium:
382
mg
Potassium:
377
mg
Fiber:
3
g
Sugar:
14
g
Iron:
1
mg
Nutrition information is provided as a courtesy and is an estimate based on online calculators. Any nutritional information found on Stetted should be used as a general guideline only.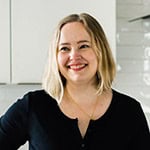 About Megan
I focus on fresh ingredients and easy methods, with spins that keep meals interesting. Dinnertime shouldn't be stressful or complicated, and I'm here to help you enjoy the time spent in the kitchen. Read more…