This post contains affiliate links. As an Amazon Associate, I earn from qualifying purchases.
Honey oatmeal bread is a yummy toasting bread for morning meals or late-night carb cravings.
When I was a kid, I didn't often have cereal for breakfast, instead preferring a warm slice of bread day in and day out. I had toast so much that I once dreamed about giant toast people chasing me — a dream that only served my desire to eat even more of it.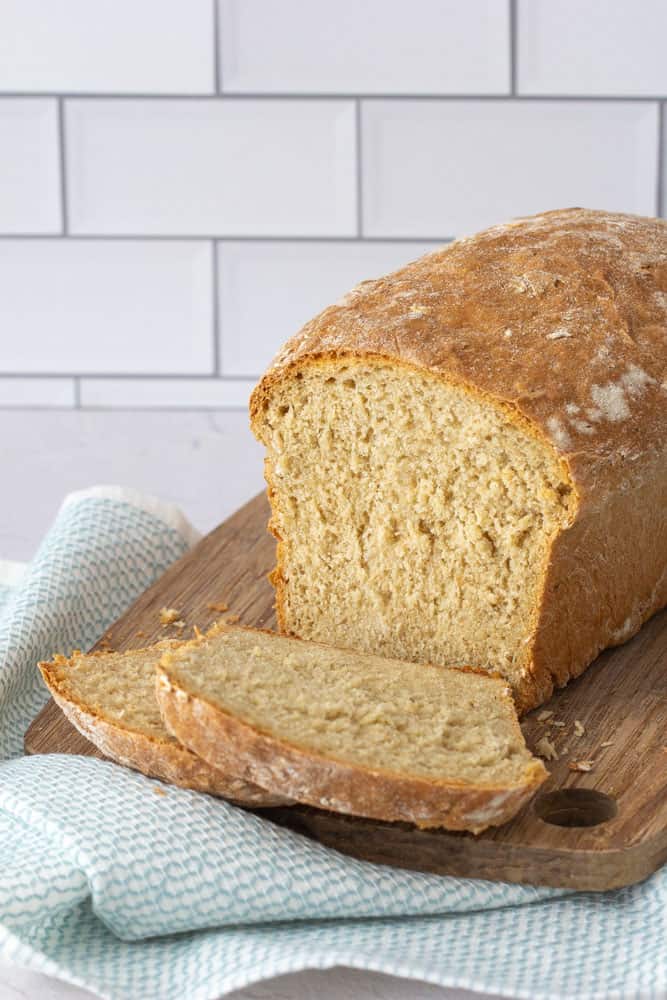 Yeah, I was pretty strange as a child.
Bread remains one of my favorite things to eat, and is now a favorite of my kids as well (what can I say, we like carbs) so it's a good thing I can turn out a loaf or two during the week. While I like to experiment with different recipes, I love having a few that are the "Stetted Standard" — recipes I turn to again and again.
This honey oatmeal bread recipe took a few tries to get right. I wanted something that was full of whole grains, but still tender.
The honey was just sort of a bonus ingredient, as I add it to most of my yeast breads, but it is in higher amounts here and provides just enough sweetness to bring out the flavor of the oats and wheat.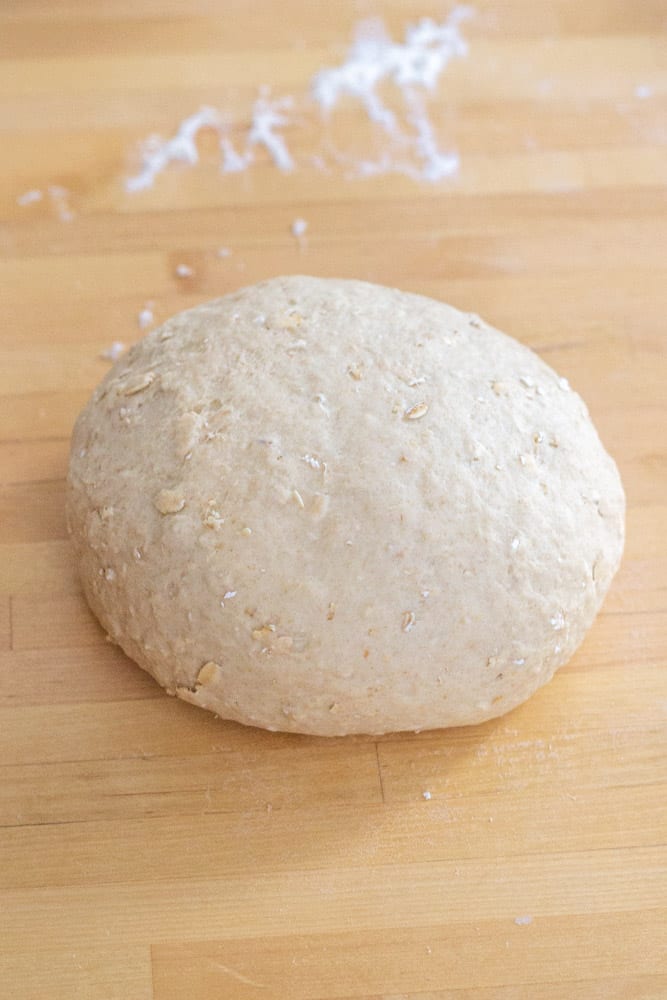 what flour should I use to bake bread?
I've been recommending King Arthur Baking Company's products for years because while it is higher priced, they are the most consistent I've used for baking.
You might see their products still labeled as King Arthur Flour, but they underwent a rebrand in 2020. Still the same great product!
Now, you don't need to rush out and buy a bag just for this recipe, but it's another thing to factor in when baking bread.
If you have a flour you love, use that! I like to play with other flour varieties when baking bread. Note that each flour has a different moisture content as well as different protein and gluten levels, so your results can differ.
This recipe uses all-purpose flour and whole wheat flour. If you want to use what is called "white whole wheat flour" that will work too. It's lighter and milder in flavor than traditional whole wheat.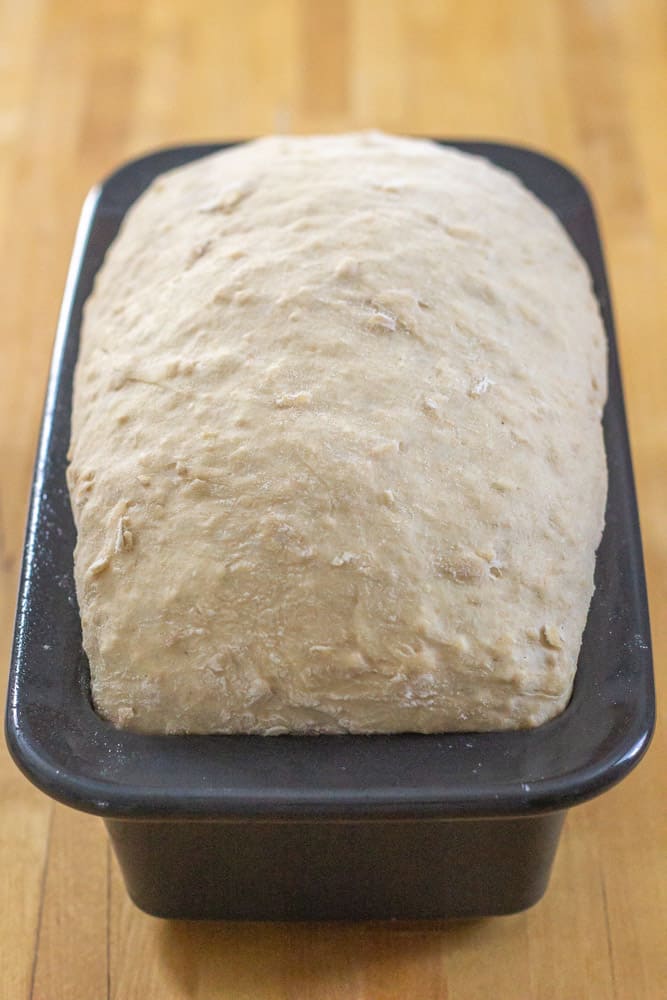 how much flour should I use when baking bread?
The kind of flour you use is important, because it will affect how much you need to use, as well as how much water.
Additionally, in the winter you might need slightly more liquid. In the summer or a humid climate, slightly less.
When measuring the flour, I use the scoop-and-sweep method, first fluffing up my flour by shaking the (closed) container a bit.
Then, scoop without packing and sweep off the top excess with a knife or other flat edge.
If you are able to use a scale for your dough, I use 120 grams per cup, or 4.25 ounces.
All of this is to say, don't get too frustrated about your dough, and add extra flour in small increments so you know when to stop. Try to not add too much to overcompensate, as it can affect the ratio of the remaining ingredients to the flour, and you could end up with a very dense brick of bread.
When you bake bread, you need to listen to the dough more than the recipe. Your kitchen's temperature, its humidity level, and the moisture content of your flour are all factors that contribute to the final product.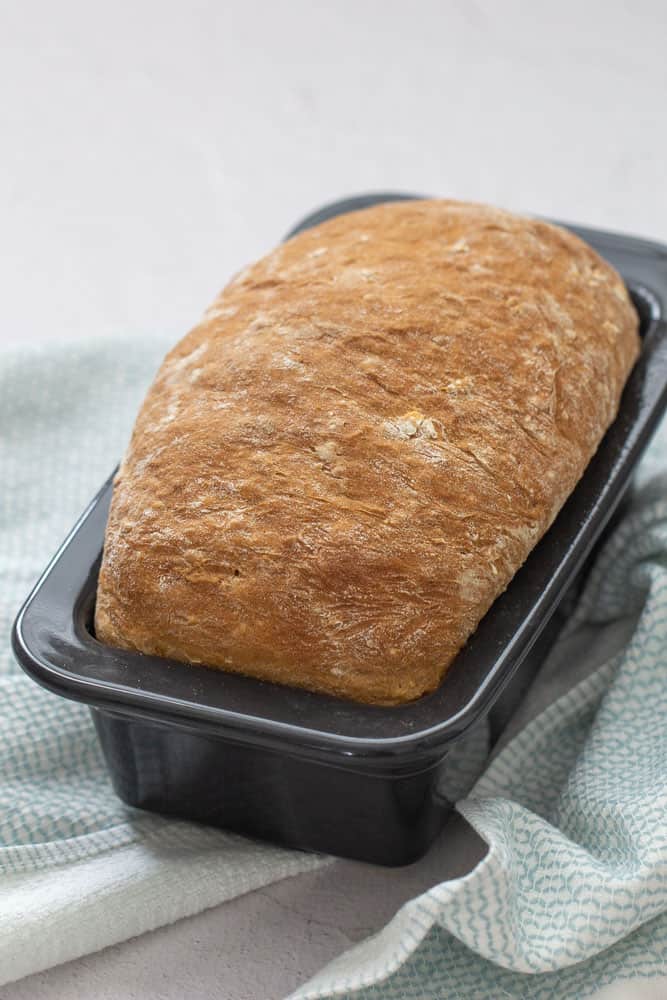 how do I let my bread rise?
It's important to find a warm place for your bread to rise, but not too warm.
80°F is an ideal temperature for rising. You likely won't have this temperature in your kitchen on a daily basis, so find a warm place in another room if you need to!
I rise my bread in my office. It's one of the warmest rooms in my house, and I can keep an eye on it.
You can also heat your oven to the lowest temperature for a few minutes and then turn it off. The bread will rise nicely in there, but remember to take it out before turning on the oven for baking!
Covering the bread is important for letting it rise. You can use plastic wrap or a clean tea towel.
I like to use new shower caps I've gathered from hotel rooms. The elastic around the edges is perfect for grabbing onto the rim of the bowl. They also can be used multiple times before needing a new one.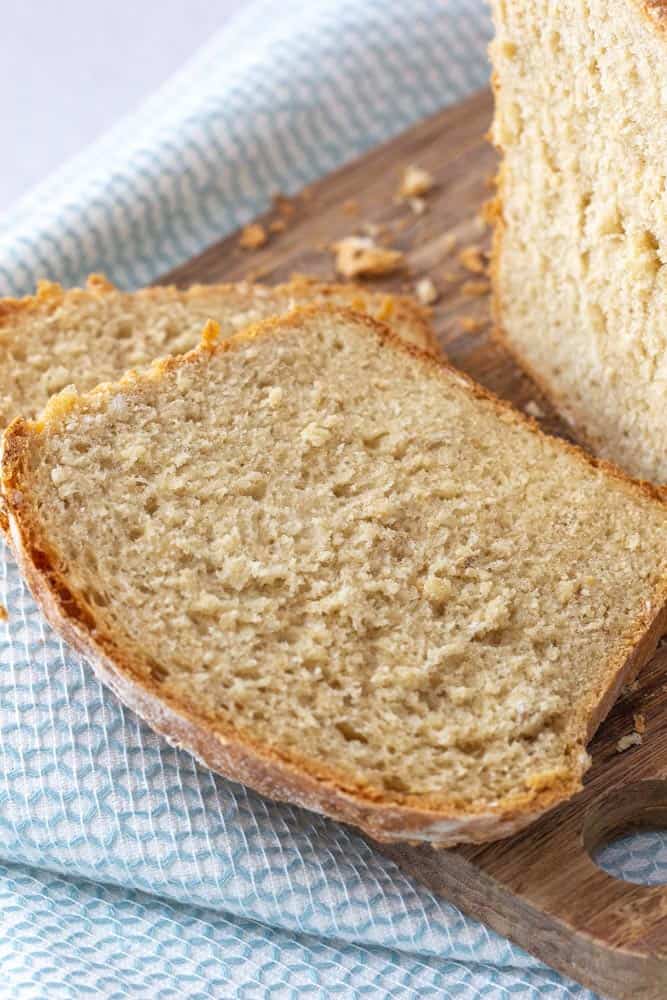 how do I know when my homemade bread is done baking?
For homemade breads it can be hard to tell when it is done baking due. If you're using wheat flour, like in this honey oatmeal bread, the color will already be darker so you need to check other factors as well.
One trick is to remove the bread from the pan and tap it on the bottom. It should sound hollow.
Another way that I find to be more reliable is to use an instant-read thermometer.
Stick the thermometer into the side of the loaf toward the center. If the temperature reads 190°F, it should be done!
When the bread is done, be sure to let it cool completely before cutting. I know it's hard to resist that fresh-baked aroma, but letting it cool will help preserve the internal texture and prevent it from drying out too soon.
Homemade bread can be tricky to master, but it's so worth it!
I love this bread smothered in strawberry vanilla jam, but it's so good plain, too!
Love this recipe? Please leave a 5-star review below! It means so much when you enjoy my recipes, so let me know how it goes and leave a comment if you have any questions.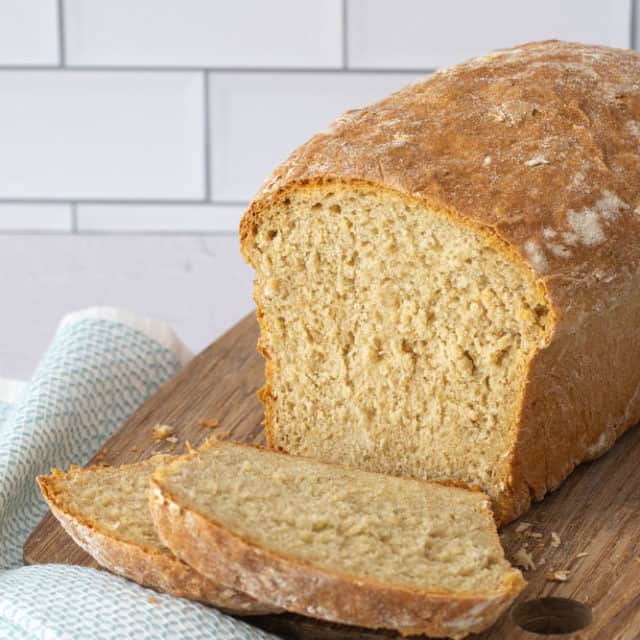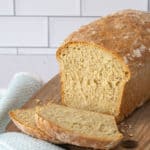 Honey Oatmeal Bread
Honey oatmeal bread is a yummy toasting bread for morning meals or late-night carb cravings.
Print
Pin
Save
Saved!
Ingredients
3

cups

all-purpose flour,

plus extra for kneading

1

cup

whole wheat flour

1

cup

old fashioned oats

2 1/4

teaspoons

instant yeast

1

teaspoon

fine sea salt

2

tablespoons

unsalted butter

,

softened

1/4

cup

honey

1 1/2

cups

water

,

warmed to 90°F
Instructions
In a large bowl, mix together 1 cup of the all-purpose flour, the whole wheat flour, oats, yeast, and salt.

Stir in butter and honey and mix well.

Add the water and stir to fully incorporate all ingredients.

Add remaining all purpose flour 1/2 cup at a time, until you have a shaggy, cohesive dough that pulls away from the sides of the bowl (you may not use all the flour).

Generously flour a work surface and dump out your dough. Keeping your hands and the work surface floured, knead dough until you have a smooth ball of dough that springs back when gently pressed with a finger. Be sure to scrape up and discard any stuck bits of dough – you don't want to incorporate them back into the dough.

Place dough in a large greased bowl and cover with a kitchen towel or plastic wrap. Let rise for 1 1/2 hours or until doubled in size.

When dough has risen, dump out onto a floured surface and gently press to remove excess air. Form into a loaf shape and place into a greased 9×5 pan.

Cover and let rise for 30 minutes or until dough is 1 inch over the rim of the pan. Preheat the oven to 350°F.

Bake for 35-40 minutes, until nicely browned. An instant-read thermometer inserted in the center should read 190°F to 200°F.
Notes
The amount of total flour needed will depend on its moisture content as well as the humidity in your home. Add a little at a time to achieve the perfect consistency.
Makes 1 9×5 loaf
Nutrition
Calories:
164
kcal
Carbohydrates:
32
g
Protein:
5
g
Fat:
2
g
Saturated Fat:
1
g
Cholesterol:
4
mg
Sodium:
149
mg
Potassium:
90
mg
Fiber:
2
g
Sugar:
4
g
Iron:
2
mg
Nutrition information is provided as a courtesy and is an estimate based on online calculators. Any nutritional information found on Stetted should be used as a general guideline only.
Other bread recipes you might like:
Apple Cinnamon Swirl Bread – Stetted
Bacon and Cheese Focaccia Bread – My Baking Addiction
Swedish Limpa – Stetted
Apple Cider Wheat Bread – The Austin Gastronomist
Garlic and Herb Swirl Bread – Stephie Cooks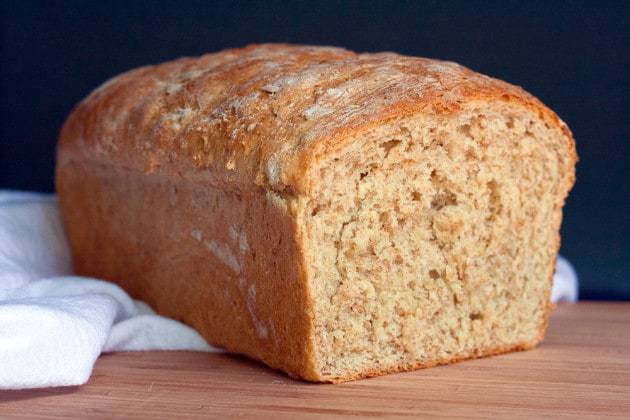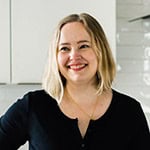 About Megan
I focus on fresh ingredients and easy methods, with spins that keep meals interesting. Dinnertime shouldn't be stressful or complicated, and I'm here to help you enjoy the time spent in the kitchen. Read more…